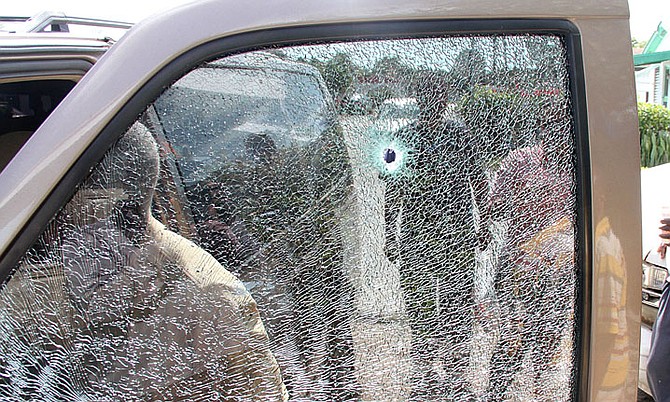 By KHRISNA VIRGIL
Tribune Staff Reporter
kvirgil@tribunemedia.net
RELATIVES of a 65-year-old grandmother who was shot in the head and killed as her home was riddled with bullets early yesterday morning said they were in "complete shock" as the family questioned the circumstances surrounding the "gruesome" incident.
Several relatives, who did not want to be named, gathered outside the victim's home in the Yellow Elder Gardens subdivision yesterday morning. They identified the elderly woman as Marinetta Hinson née Leadon.
Police said they launched an island-wide manhunt after the attack and that three men were later taken into custody in connection with the case. One of them surrendered to police at the Central Detective Unit yesterday morning.
According to police, at around 3.30am the victim and her family were at home when several persons "attempted to burn their house down".
Gunmen then began shooting at the house.
Ms Hinson was awakened by shots being fired. As the bullets rang out, she was struck in the head. Ms Hinson was declared dead at the scene.
She shared her home on Old Cedar Street with her two adult sons.
One of her sons was shot in the arm during the incident. He was taken to the Princess Margaret Hospital where police said he remains in stable condition.
Neighbours said they believed the gunmen set the home on fire to prevent those inside from escaping.
When The Tribune arrived at the scene yesterday morning, the front door of the home had been scorched by fire. However, the house was not completely burned to the ground as was speculated on social media.
Several vehicles in the victim's yard had been damaged by bullets with windows shot out. Area residents told The Tribune that the early morning gunfire lasted for about one minute.
A man, who identified himself as one of the victim's other sons, said he rushed to the scene from his home once he got word of her death, believing his mother died of natural causes.
However, once he arrived, he said he was "completely shocked" to learn that his mother had been shot to death.
When asked if he could say why Ms Hinson was targeted, he said he did not know.
"I lost it when I got around here early this morning and they said mommy was shot to death," he said. "On my way I was thinking maybe she had a stroke or something.
"To be honest, I am completely shocked. I can't believe this happened to mommy. I just don't know why. I feel like I lost everything. Mommy was a friend to all the young boys around here. I used to tell her all the time to be careful of them."
He said he was doubtful that the shooting had anything to do with his brothers who are both in their 40s.
While investigations are continuing into the case, police appealed to anyone with information to come forward.
Anyone with information can call the police at 919 or CRIME STOPPERS at 328-TIPS in New Providence. Family Island residents can call toll free at 1-242-300-8476.
Ms Hinson's death pushed the year's murder count to 16, according to The Tribune's records.