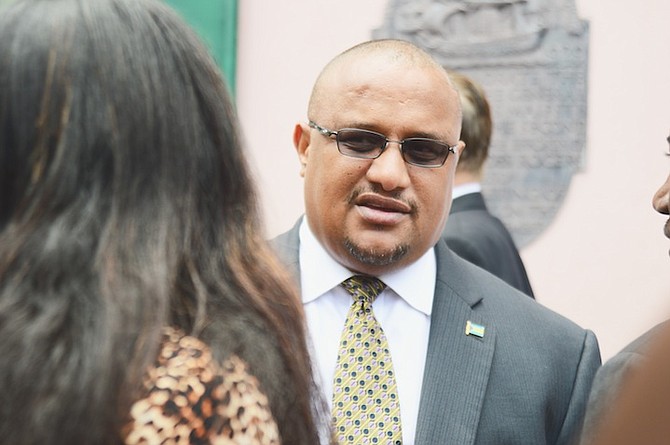 By KHRISNA VIRGIL
Tribune Staff Reporter
kvirgil@tribunemedia.net
MARCO City MP Greg Moss yesterday criticised the government's new immigration policy, arguing that persons of Haitian descent who he called "undocumented Bahamians" may be deported under the restrictions.
He also insisted that children who are born in the Bahamas to foreign parents are entitled to be registered as citizens of the country when they become 18 years old.
He said that the notion that this segment of the population only had the constitutional right to apply for citizenship once they turned 18 was a misconception.
Mr Moss said just as he was committed to defending the rights of any other Bahamian citizen, he would also defend the rights of "undocumented Bahamians" who would be stateless if deported under the government's new immigration policy.
The Progressive Liberal Party MP was speaking in the House of Assembly as debate continued on the National Tripartite Council Bill, which was passed in the lower chamber yesterday evening.
Mr Moss said second, third and fourth generation Haitians in the Bahamas are not considered Haitian under that country's constitution.
"Only first generation people, who are first generation Haitians in this country, who are born to native born Haitians in Haiti have Haitian nationality and Haitian citizenship. Second, third, fourth, fifth and beyond don't – they have no citizenship in Haiti."
In light of these issues, he said the government's new immigration restrictions should not be a policy decision, but should be brought to the House of Assembly for debate so its ramifications can be discussed.
"The point is made by the Constitutional Commission and the point is made by the careful reading of the Haitian constitution," he said. "Any Haitian national born in this country whose parent was not a native born Haitian in Haiti would effectively be stateless if we deport them."
He referred to Article Seven of the Constitution, which says a person born in the Bahamas after July 9, 1973, neither of whose parents are citizens of the Bahamas, shall be entitled to be registered as a citizen of the Bahamas at 18 years old.
"Not apply, but to be registered," he stressed. "This is something that I feel extremely strongly about because what we are talking about when we get past first generation Haitians born in in this country . . .is undocumented Bahamians. We are talking about deporting them from this country, which at age 18 they are entitled to be registered as a citizen. That is what we are talking about.
However, Fox Hill MP Fred Mitchell said Mr Moss's remarks were based on his interpretation of the Constitution and a "red herring."
Mr Mitchell, minister of foreign affairs and immigration, said the Bahamas government was compelled by international obligations to give stateless individuals status.
"The generality of the (government's) proposition is this, if you're not Bahamian you need to have permission to be in the Bahamas. If you are stateless then the Bahamas has certain obligations. We don't violate those norms."
He added: "The international obligation is standard when someone is stateless. You have to provide status for that individual. So the question of deporting someone who is stateless does not apply.
"It appears to me that one is raising something that is not an issue."
On the issue of citizenship applications, Mr Mitchell said: "We know that the way that the law is prescribed under the Act that the Bahamas government does have some say over whether someone is registered or not. But there are also provisions in the Bahamas' Nationality Act to say how you could apply and the Bahamas government can apply those positions and refuse to register someone in those circumstances."
Mr Mitchell maintained that the Bahamas government will follow the law regarding non-Bahamians. He said they must have permission or proof of permission to be in the country.
"We are seeking to deal with the number of cases that people have raised and the immigration reform is designed to deal with that problem," he said.
On November 1, the government introduced a new policy, which required all persons to have a passport of their nationality with proof to legally work or reside in the Bahamas. Some have said the policy unfairly targets persons of Haitian descent.