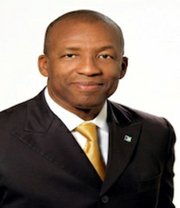 By NICO SCAVELLA
Tribune Staff Reporter
nscavella@tribunemedia.net
FORMER Attorney General Alfred Sears said the government needs to "exercise the level of sophistication" and "sensitivity" in "harmonising" its local and international obligations while enforcing its new immigration policies.
Mr Sears, also a former Minister of Education under the PLP government, told The Tribune this week the government's approach to the new immigration policies must be "harmonised" so as to be "consistent with human rights, with the rule of law, and with our international obligations".
He said failure to do so could potentially result in "statelessness" and an "underclass of undereducated persons in the country," which he said would be a "national security threat".
Mr Sears' comments come after numerous criticisms of the new policy, which mandates that children of non-Bahamians have a student permit and a passport of their nationality to attend school.
Prime Minister Perry Christie criticised detractors of the new policy on Thursday and said the requirements are meant to "protect the paramount interest of Bahamians".
Immigration Director William Pratt also told The Tribune this week that school administrators will be able to "provisionally accept" children of non-nationals who do not have a school permit required for the fall semester.
Mr Sears said: "From a legal standpoint The Bahamas is part of a global community, and as a member we have an obligation to conduct our internal affairs in accordance with the global norms for example to prevent statelessness. That's a duty that all countries have and certainly that duty applies to us in The Bahamas as well.
"We also have a number of laws. Certainly we have to protect the borders of our country and for national security reasons we have to know who is in our country. Then we have the Education Act that mandates that every person, irrespective of nationality between the ages of five and 16, must be in school. That is the national law of the Commonwealth of The Bahamas.
He added: "These are competing and interlocking issues that must be harmonised, and that is why we run for office and we sit in Parliament and in the Cabinet, because those are the hard decisions that any government has to make. Consistent with human rights, with the rule of law, and with our international obligations.
"We would not want for there to be an underclass of uneducated persons in our country because it would be a national security threat. It's not an easy task because it requires a lot of sophistication and a lot of skill to harmonise these obligations."
Mr Christie defended the immigration policies and said rather than create the perception that it would "deny children a place in our educational establishments", the policy is simply to "account for people in The Bahamas" regardless of nationality.
He also said that on a weekly basis the government is "giving consideration to citizenship applications," and is granting citizenship on a "continual basis".
Further alleviating the perception that the policy would deny children access to an education, Mr Pratt said schools would be able to accept students with the caveat that their parents have until the end of the school year, for example, to comply with the requirements. Mr Pratt insisted that there are ways to ensure compliance with the policy that does not involve barring non-nationals from accessing education.
Last month, Foreign Affairs and Immigration Minister Fred Mitchell announced that children of non-Bahamians must have a student permit for the fall semester. The requirement is part of a broader immigration policy that came into effect on November 1.
That policy, among other things, requires every person in The Bahamas to have a passport of their nationality with proof to legally reside and work in this country.
Since the new policy was announced however, numerous critics - local and international - have spoken out against the restrictions, with some saying the policy unfairly targets Haitians.
Human rights activists Fred Smith and Joseph Darville, as well as former Deputy Prime Minister Brent Symonette, have all criticised the student permit restriction, arguing that it would make it harder for thousands of children in the country to get an education.
Amnesty International (AI) Caribbean Campaigner Robin Guittard has also expressed concern, saying the mandate "could violate The Bahamas' international obligations."
The students were also highlighted as a "tough" policy in The New York Times.
On Monday, Marco City MP Greg Moss criticised the government's new immigration policy, arguing that persons of Haitian descent who he called "undocumented Bahamians" may be deported under the restrictions.
After having previously stressed that the restrictions were in accordance with the Immigration Act and a part of the Christie Administration's wider policies, Mr Mitchell said earlier this week that he was confident the government enjoys the support of most Bahamians on the matter.
The annual school permit costs $25 with a $100 processing fee.