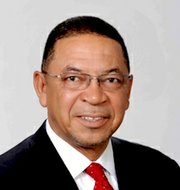 By RICARDO WELLS?
Tribune Staff Reporter?
rwells@tribunemedia.net?
THE shadow minister for immigration, Hubert Chipman, claimed this week that the government's new immigration policy will "prove ineffective" due to a lack of legislation.
Mr Chipman, the Free National Movement MP for St Anne's, accused the government of using "mixed messages to create mass confusion". He added that immigration officials are playing a guessing games with the new policy.
"This policy was implemented in November of last year," Mr Chipman said on Wednesday. "At that time the minister indicated that the necessary legislation would follow in January. Come on. January has come and gone and all we as the public have received is differing messages from that side. No one seems to be on the same page and their comments prove that.
"This policy can't work if the legislation doesn't come. It needs firm and clear legislation to work. All we have so far is the minister suggesting how things might work and other people around the country firing back at him over his comments," said Mr Chipman.
On November 1, the government introduced a new policy, which required everyone to have a passport of their nationality with proof to legally work or reside in The Bahamas. As a part of that policy all non-Bahamian children will have to obtain a student permit and a passport with a residency stamp.
Mr Chipman said: "Personally I don't see a problem with students being required to obtain a permit to apply or go to school. Bahamian kids are required to have a birth certificate to apply to attend school, so it is only right that regulations require non-Bahamian kids to get a student permit if they intend to attend school.
"This is already a complicated issue. You have an extensive backlog of applications for work permits at the immigration office. Those persons might have kids: if their applications have not been reviewed yet, how do you then give a ruling on an application for their kids.
"Then, on the other hand, what happens when you reject the parents' application but the child was born here. That child is eligible to apply for citizenship. Do you deport them and tell them at 19 they can return and apply for citizenship?"
According to Mr Chipman these "intricate details" now make the government's new policy complicated to enforce. He explained that some illegals might be forced to keep their children away from schools, clinics and even churches out of fear that their undocumented offspring might lead immigration authorities to them.
"It's a scary thought they might refuse to take their kids to school because they are wondering if immigration officers will be waiting to see who drops off the kids. You have to fix the issues with the parents and then allow the kids to follow suite. Once you straighten that out (legal rights of parents), the rest will fall in to place."
Last week, Education Minister Jerome Fitzgerald said that the government is "resolute" over the student permit requirement for children. He indicated that he supported immigration officials' attempts to enforce the immigration laws of the country.
Immigration Minister Fred Mitchell said earlier this week that he was confident the government enjoys the support of most Bahamians for its latest immigration restriction, which mandates that children of non-Bahamians have a student permit to attend school.
On Monday, Marco City MP Greg Moss criticised the government's new immigration policy, arguing that people of Haitian descent - who he called "undocumented Bahamians" - may be deported under the restrictions. He added that children who are born in The Bahamas to foreign parents are entitled to be registered as citizens of the country when they become 18.
"The only thing this policy has delivered is mass hysteria because no one knows the full details," he said. "The education director has an opinion, so does the minister of education and the immigration minister. They all have opinions on a policy that has no legislation. At this moment we are all going back and forward on a matter that legally doesn't stand up. This policy needs legislation to have teeth."