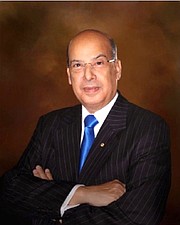 SIR Ronald Sanders, the High Commissioner for Antigua and Barbuda in London, has been reinstated in the contest for the post of Commonwealth Secretary-General after withdrawing his candidacy in December.
Prime Minister Gaston Browne, of Antigua and Barbuda, has written to the heads of CARICOM saying he had been "overwhelmed by messages of regret and requests for reconsideration from within and beyond the Caribbean" after Sir Ronald's withdrawal.
In a letter on February 12 to the heads of government of the Bahamas, Barbados, Belize, Dominica, Grenada, Guyana, Jamaica, St Kitts-Nevis, St Lucia, St Vincent and the Grenadines, and Trinidad and Tobago, Mr Browne said that the messages had shown that the Commonwealth "has been deprived, at a time of crisis, of the candidate manifestly most suitable and most likely to be chosen given his Commonwealth-wide network and diplomatic experience".
Sir Ronald, 67, had the declared support of nine of the 12 Commonwealth Caribbean governments' votes. Mr Browne said he was anxious that the region proceed with a consensus candidate if possible and, after urging Sir Ronald to reconsider on that basis, was pleased he had accepted. Sir Ronald had withdrawn late last year citing delay by the region's delegates to make a decision over their preferred candidate.
The determination on what should be a unanimous candidate should be taken during the CARICOM inter-sessional conference in The Bahamas, chaired by Prime Minister Perry Christie, on February 27.