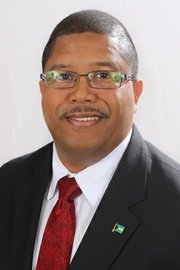 By KHRISNA VIRGIL
Tribune Staff Reporter
kvirgil@tribunemedia.net
FREE National Movement Deputy Leader Peter Turnquest said he was "very concerned" about the country's economic future as he castigated the government over its lack of detail in the 2014/2015 mid-year budget presentation.
Speaking in the House of Assembly yesterday, Mr Turnquest said it was difficult to make comparisons year over year in the mid-year exercise due to the many budget format changes made last June.
He accused the Christie administration of attempting to "swing" Bahamians with the newest economic projections that were outlined in Prime Minister Perry Christie's mid-year budget communication last week.
During that presentation, Mr Christie said the latest International Monetary Fund (IMF) forecast showed that real output in the country's economy is expected to be over $600 million larger in 2017 than it was in 2012. In real terms, it is an increase of almost 8 per cent over the current five-year mandate, he said.
However, Mr Turnquest took issue with this forecast.
He said: "To take this projection into context, however, it would be useful to note that the Bahamian economic share of the world's total GDP, adjusted for purchasing power parity, was 0.01 per cent in 2009 and is forecast to be 0.01 per cent in 2015, no change.
"In other words, don't get swing by these numbers as they are dependent on global economic forecasts, not the Bahamas in isolation. As the government is quick to point out when it fits their purpose, we have an open economy that is vulnerable to external conditions, particularly the United States' economy and so as one goes, so does the other; (it has) very little to do with direct government effort."
However, his assertions drew ridicule from seated members of parliament on the government's side who said the FNM was attempting to confuse Bahamians.
Mr Turnquest went on to urge the government to divest itself of Bahamas Telecommunication Company shares.
The Ingraham administration sold 51 per cent of BTC to Cable and Wireless Communications in 2011, to stern opposition from the PLP.
The former administration had planned to offer nine per cent of the government's shares in BTC to the public.
Last year, the government concluded a deal with the company that saw CWC transfer two per cent of BTC's shares to a charitable trust for Bahamians.
The government still owns 49 per cent of the company.

"Given the actions or lack thereof on that divestment exercise, are we to trust this government when they say they will cause 51 per cent (of the country's second mobile services provider) to be owned by Bahamians? I think not. I do not believe it is in their philosophy to see Bahamians have a significant equity stake in our country. They prefer the cradle to grave approach, keeping people dependent on them in exchange for votes," Mr Turnquest said.
"If 51 per cent is to be sold in the new company, I urge the government to make it a true IPO offering and that it does not attempt to act as an intermediary or interfere in the offering. They have no creditability in this regard.
"I call on the government to fully divest itself of BTC shares so that there can be no claim of insider trading and or unfair practices. How does an investor trust the regulator of a process to police that process, particularly when they have a vested interest?"
State Minister for Finance Michael Halkitis said last week that the government would be the majority shareholder when the country's second mobile services company is launched, but that the shares would eventually be offered to Bahamian investors.
Mr Christie has since said the government will only own 51 per cent of the new company as a temporary measure to immediately facilitate the transfer of shares to local investors.
Yesterday the FNM deputy leader also renewed calls for the government to implement a Fiscal Responsibility Act, and to create an Office of the Ombudsman, a National Economic Council and a non-partisan "Ways & Means Council", to collaboratively determine budgetary spending.