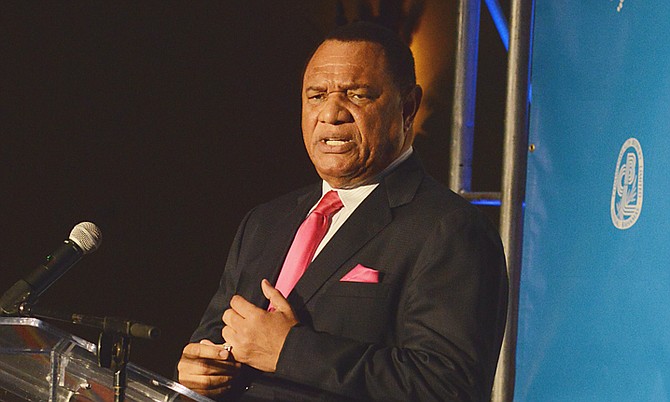 By DENISE MAYCOCK
Tribune Freeport Reporter
dmaycock@tribunemedia.net
PRIME Minister Perry Christie opened the IDB Caribbean Governors Meeting in Grand Bahama on Thursday, telling officials that he anticipates reform of the IDB's private sector lending framework will result in increased financing for a broader range of economic growth producing enterprises within the Caribbean.
Attending the opening at the Grand Lucaya Resort were IDB President Luis Albert Moreno, IDB governors from the Bahamas, Barbados, Trinidad and Tobago, Suriname, Jamaica, Guyana, and Mr Warren Smith, president of the Caribbean Development Bank. Mr Christie said: "It is my fervent hope that the reform of the private sector lending arm of the IDB will bear fruit for the region."
While he commended the bank for its visibility in the region, he indicated that its presence in the private sector needs to increase, and it needs to be especially registered in making the tourism sector more diversified and resilient.
The prime minister indicated that tourism is the primary engine for growth for most economies in the Caribbean.
"We must find new ways of increasing and broadening local ownership in the sector, and to promote more eco-based developments," he stated.
He encouraged bank president Luis Moreno to review the bank's strategy on investing in the tourism sector.
Mr Christie said healthy growth leads to reducing unacceptably high unemployment and addressing major social maladies, such as crime and poverty.
He stated that most solutions point to the need for more prominent role for the private sector in developing and sustaining the engines of economic growth.
The prime minister said regional outlook is beginning to improve.
"This is a direct result of the unorthodox fiscal policies and aggressive central bank interventions that are guiding and propelling the world's leading economies through their respective recoveries," he explained.
The prime minister indicated that the technical and financial support from international financial institutions and development agencies, including IDB and the Caribbean Development Bank, cannot be understated as they continue to undergird the pivotal reforms to the country's own policy frameworks that position the Bahamas to take optimal advantage of recovery trends in the global economy.
Mr Christie noted that while the bank is re-examining its lending framework, it must be mindful of its critical role, both technical and financial, in supporting vulnerable and high indebted countries in the region.
"When we must borrow, the ease of access to such funding must not be unduly or unreasonably inhibited," he said.
He stated that the tendency to categorize respective countries as middle or high income must be discounted against their very fragile existence, especially having regard to the narrow economic bases, high structural costs, and increasing vulnerability to climate change and natural disasters.