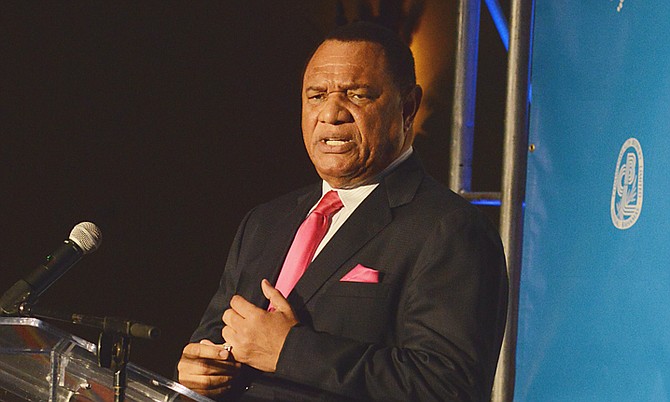 Prime Minister Perry Christie
Stories this photo appears in:

BRANVILLE McCartney yesterday said Prime Minister Perry Christie and Leader of the Opposition Dr Hubert Minnis should be ashamed of themselves for making a "political spectacle" of Haitian Flag Day at the weekend.

PRIME Minister Perry Christie yesterday repeated that he was not "delusional" while again promising that this year his administration would get a handle on crime, focus on stabilising the economy and ensure that the stalled Baha Mar resort opens its doors.

FORMER Immigration Minister Loftus Roker yesterday said he was disheartened by the idea that "the men we have elected to make it better are slowly destroying the country".

PRIME Minister Perry Christie on Friday said he is "distressed" by the country's crime problems, which he said now requires a more aggressive approach by the government and law enforcement.

IF THE Supreme Court decides to appoint a provisional liquidator today to take over the Baha Mar case, the government will be faced with a "different kind of situation", Prime Minister Perry Christie said as he recalled his administration's prior hopes that Baha Mar CEO Sarkis Izmirlian "would not just allow the resort to go".

Prime Minister Perry Christie, has dismissed as "absolute nonsense" Baha Mar's suggestion that the Government's initiation of winding-up proceedings amounts to a seizure of private assets.

PRIME Minister Perry Christie on Tuesday implored American and Caribbean national security officials to become more proactive in their approaches to reducing trans-national criminal activity and the conditions that lead youths to engage in illicit practices.

PRIME Minister Perry Christie said leaders of conservative countries must consider how their nations could "co-exist in a world" where global attitudes towards social issues like homosexuality are shifting.

PRIME Minister Perry Christie yesterday said his administration has not abandoned efforts to bring relief to thousands of Bahamian policyholders who lost millions of dollars when CLICO (Bahamas) collapsed.

PRIME Minister Perry Christie said he is "amazed" by the direction the debate surrounding National Health Insurance has taken as he refuted concerns that his administration has already decided to impose additional taxes on Bahamians to fund the controversial initiative.

REGIONAL talks ended today with no consensus on candidacy for posts in the Commonwealth Secretariat and the Organisation of the American States (OAS).

PRIME Minister Perry Christie opened the IDB Caribbean Governors Meeting in Grand Bahama on Thursday, telling officials that he anticipates reform of the IDB's private sector lending framework will result in increased financing for a broader range of economic growth producing enterprises within the Caribbean.
PRIME Minister Perry Christie yesterday criticised detractors of the government's new immigration restrictions and said the requirements are meant to "protect the paramount interests of Bahamians".

PRIME Minister Perry Christie yesterday chastised lending institutions for breeding a culture of "modern day economic slaves".