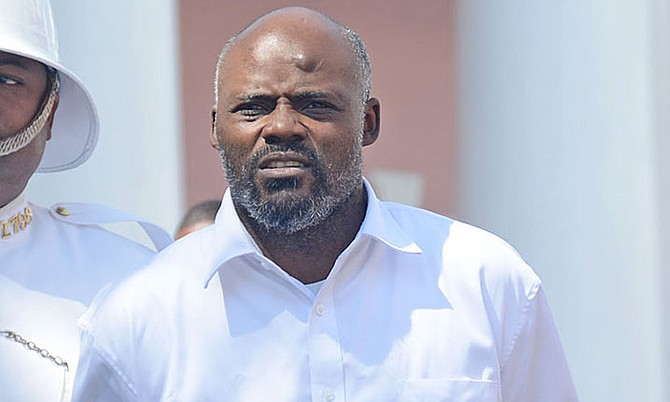 By LAMECH JOHNSON
Tribune Staff Reporter
ljohnson@tribunemedia.net
PROBATION is not an appropriate sentence for a man convicted of sexually assaulting a minor and aiding her into a forced abortion, a judge ruled yesterday.
Justice Vera Watkins told 41-year-old Dwight Bethel that he would serve 12 years imprisonment on two counts of unlawful sexual intercourse and seven years for abetment to abortion concerning the crimes committed between 2008 and 2013.
The judge said she came to this decision having reviewed the evidence produced at trial, case and statute law on such crimes, the submissions by defence and Crown counsel and the probation report of the convict.
As police officers led Bethel away from the Ansbacher House courtroom to await transport to the Department of Corrections, his sisters and fiancée spoke to The Tribune to express their confidence that Bethel will be exonerated on appeal and their intent to file a civil suit afterwards.
"We intend to appeal the conviction, ok," said Brenda Riley-Bain, "because in all honesty, my brother, who they convicted of this heinous crime, never in any way or any form, raped or tried to rape anyone."
"You're saying that this man abused you? He does not live in the house with you having moved out February 2013, you discover you are pregnant in June of 2013, and you supposedly had an abortion in October 2013? If you were pregnant for this man that you claimed raped you why is that you couldn't tell your mother that you were pregnant by the man that raped you ... instead you calling this man who don't live with you anymore to take you to this clinic to have an abortion?"
"That's a forced abortion? That does not compute," Mrs Riley-Bain said, adding that "when you go around making serious accusations like this that could potentially destroy someone's life, cause them harm, you will have to pay".
"And society needs to realise we can't go around doing whatever it is we want to do to people just simply because we're not doing what it is we want them to do."
At trial, Bethel denied the accusations when interviewed in police custody and during his testimony. However, the jury believed the complainant's testimony that Bethel began molesting her in 2008 when she was 11.
Now a teenager, she said she never told her mother what was happening because she was afraid. The teen said she told Bethel she was carrying his child in June 2013 and he took her to a clinic four months later to terminate the pregnancy.
However, the operation was halted by her mother's calls inquiring as to her whereabouts. As a result, she had to pass the foetus at home and wrap it up in a plastic bag as directed by Bethel before he came to collect it.
The alleged abuse was revealed and reported to police later that day when the girl's mother took her to the Princess Margaret Hospital, where she was diagnosed and treated for an incomplete septic abortion.
At the February 9 proceedings, Bethel's lawyer, Stanley Rolle, had asked the court to consider imposing a three-year probation period on his client.
Mr Rolle said if the court would not consider this, then imprisonment for no more than seven years was sufficient given that this was Bethel's first sexual offence.
He asked the court to bear in mind Bethel's previous good character up until the conviction and the account of probation officer Kermit Harris-Smith, who gave every indication that his client was redeemable.
However, prosecutor Algernon Allen urged the court to protect the children of The Bahamas by imposing no less than 14 years imprisonment for the crimes when taking into account the seriousness of the case and that the offence would likely scar the victim for life.
He further emphasised that Bethel was not only unanimously convicted of two counts of unlawful sexual intercourse, but also of abetment to an abortion.
He urged the court to guide itself with the Court of Appeal's decision in the matter of Albert Alexander Whyley, whose life imprisonment for sex with a nine-year-old girl was reduced to 30 years in jail.
Mr Allen echoed the sentiments of appellate president Justice Anita Allen, who, in giving the court's ruling, said: "We owe it to the children of The Bahamas to protect them from people who prey on them and have sexual intercourse with them at the age of nine."