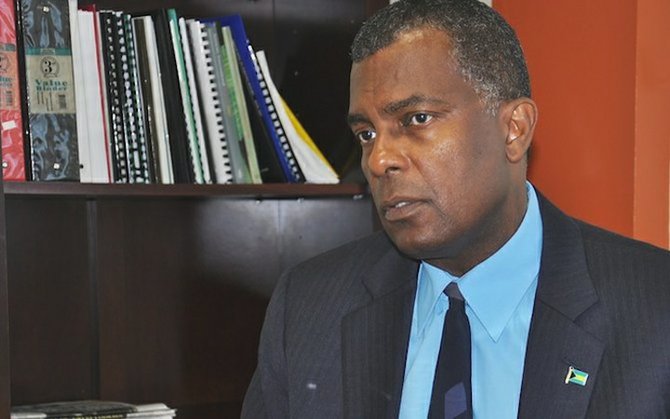 By RASHAD ROLLE
Tribune Staff Reporter
rrolle@tribunemedia.net
FOREIGN Affairs and Immigration Minister Fred Mitchell will hold a series of meetings in Abaco beginning today in the hope of educating residents about a planned immigration exercise on the island.
Speaking in Grand Bahama yesterday, Mr Mitchell announced that the four scheduled meetings will take place throughout the island and will involve local government, Christian Council leaders and opinion makers.
In a press statement, Mr Mitchell said: "The idea is to sensitise the community to the fact of a more aggressive system of checking which will be unfolding over the next three months. Many people have indicated, although we do not agree with it, that these changes somehow took place without warning even though we have been talking about it for over two years.
"The fact is now we are going to use this approach to say to people that one of the ways you can get your house in order is to of course voluntarily repatriate yourself to your home country, to voluntarily withdraw, or get your paperwork in order."
Mr Mitchell noted that similar operations to those being prepared for Abaco are projected for Eleuthera and Exuma.
"We have people who come in as tourists and then begin working in high-profile jobs, all the while pretending they are tourists, and that must come to a stop. And then, this feeding illegal migration by thinking all you have to do is just come into a community like Abaco, melt into the community and then you just get adopted somehow, and you get rights to stay there.
"So, all of that has to stop and the meeting is really meant to discuss with community leaders how best to go about approaching this."
Mr Mitchell also once again addressed the issue of how children are treated during immigration raids.
"Again, you have this activist here in Grand Bahama painting a false picture of that, and it's really done in my view to try and sap the will of the public on this issue. The facts on those matters with regards to children are quite plain.
"The children they alleged were somehow not handled properly by immigration officers, that was false. We know that it was demonstrated to be false, and the Prime Minister asked for separate facilities and those facilities are now in place so those issues don't arise."