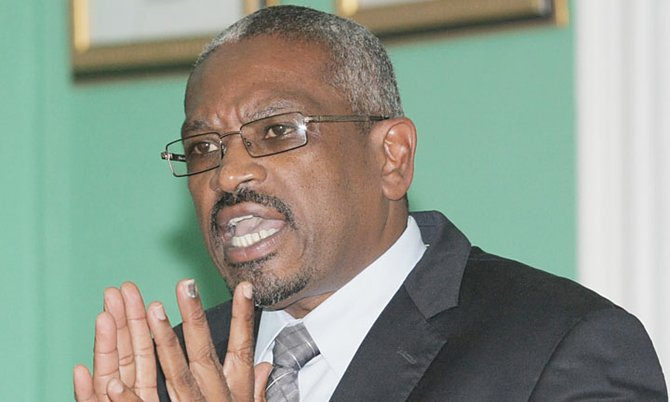 By KHRISNA VIRGIL
Tribune Staff Reporter
kvirgil@tribunemedia.net
FREE National Movement Leader Dr Hubert Minnis yesterday criticised the Christie administration over the latest national unemployment statistics, which show a 1.4 per cent increase despite slight growth in the labour force in the second half of last year.
According to the Department of Statistics, unemployment rose from 14.3 per cent in May 2014 to 15.7 per cent as of November last year.
Dr Minnis said since the Progressive Liberal Party took office, its failure to arrest social ills and stimulate economic activity has left the country on the "fast track to destruction".
Dr Minnis criticised the government saying it was an administration of broken promises that failed to deliver on major campaign promises, chief among them to create 10,000 jobs.
He said: "This is nothing more than an administration of failure and lies that is intent on sending us down a road to destruction swiftly. They promised 10,000 jobs, but the rate has risen.
"Under this Christie led government everything appears to be rising. This includes crime, distrust in the government, the number of foreclosed homes, the number of people living without electricity, among other things."
"The only thing around here that has fallen is the purchasing power of the Bahamian dollar under this government. The bottom line is that this government must go."
Dr Minnis spoke following the release of a new Labour Force Survey compiled by the Department of Statistics.
The report covers the period from October 27 to November 2, 2014. The previous survey completed before that was done in May 2014.
The survey said that the unemployment rate in New Providence jumped from 15 per cent to 16 per cent while in Grand Bahama it rose from 14.7 per cent to 18.6 per cent.
A survey in Abaco pegged its unemployment rate at 20.3 per cent.
The survey results further show that youth ages 15 to 24 continue to face a considerably higher rate of unemployment than any other group. That group's unemployment rate was 31 per cent, an increase of three per cent from the previous survey, when it was 28 per cent.
Dr Minnis said this proved that the government was out of sync with the plight of young people throughout the country.
"It is said that young people and single mothers continue to see dismal labour force numbers. It is essential that we provide jobs for these people. This is precisely why young people leave this country and never return," he said.
"At the Business Outlook last year, Mr Christie said he would concentrate on growth. He said would appoint economic advisors to chart the way forward. Has anyone heard about this to date? The Bahamas needs new leadership."
Dr Minnis said his party is in the process of crafting plans to arrest the unemployment situation, including assistance to small businesses and how it would best approach tax-free zones should they assume office following the 2017 general election.
The Labour Force Survey results also show that there has been a 22 per cent increase in the number of discouraged workers in New Providence, while Grand Bahama has seen a 55 per cent decrease in its number of discouraged workers, resulting in a net decrease overall.
Overall, the total number of people in the labour force was 201,040.
Although there was an increase in both the number of employed and unemployed people, the unemployment growth rate exceeded that of the employed, Department of Statistics Director Kelsie Dorsett said on Friday.
Ms Dorsett said Abaco's relatively high unemployment rate may reflect the occasional seasonal nature of employment there and the existence of immigrant communities that have high unemployment rates.