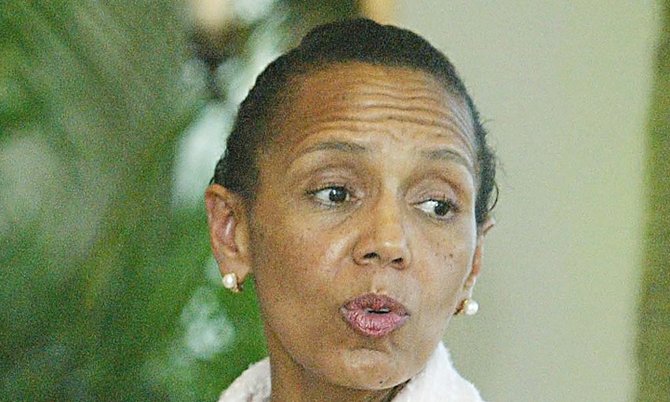 By LAMECH JOHNSON
Tribune Staff Reporter
ljohnson@tribunemedia.net
THE reimplementation of Swift Justice has yielded significant improvements for the judiciary, Attorney General Allyson-Maynard Gibson said yesterday.
"I must assure you that Swift Justice is showing promising results," she said yeterday.
"Things are moving in the right direction, we are making progress with our existing resources. All cases have been reviewed and thoroughly prepared. Communication, co-operation and collaboration between the Office of the Attorney General and other stakeholders have met an excellent outcome.
"Allow me to share with you a few examples: The time to present a Voluntary Bill of Indictment from laying of charges has decreased by 460 per cent from 344 days in 2012 to 78 days as of December 31, 2014."
"The number of cases disposed of by the Supreme Court has increased from 118 in 2012 to 200 in 2014, which has almost doubled."
Mrs Maynard-Gibson added that with ten criminal courts up and running by March, the target for the disposal of criminal cases is 350 or 75 per cent more than what was done last year.
Supreme Court criminal trials, she said, yielded a 54 per cent conviction rate in 2014 while murder and related offences yielded a 57 per cent conviction rate against a 43 per cent acquittal rate.
The new courts, on Bank Lane, are in the building that previously housed a Magistrate's Court and the police prosecutions office as well as the Ansbacher Building.
These are expected to add to the six criminal courts currently in use.