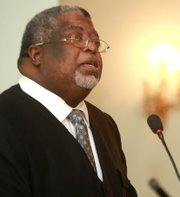 By LAMECH JOHNSON
Tribune Staff Reporter
ljohnson@tribunemedia.net
SIR Michael Barnett announced yesterday his intentions to resign in two weeks time as chief justice, a move that comes after a year of public debate and speculation over his likely successor.
While no indication was provided at the Legal Year opening ceremony as to who he or she will be, sources strongly suggest the post will be given to Justice Hartman Longley.
Justice Longley is a former acting chief justice and Court of Appeal judge who was first appointed to the bench of the Supreme Court in 1992.
In Sir Michael's last speech to bring in the new Legal Year, the outgoing chief justice, said that his intention to resign "is of my own will and for very personal reasons."
Sir Michael was appointed in 2009, having served as attorney general and minister of legal affairs from 2008 to 2009 during the last Ingraham administration.
"In December of 2013," he explained, "I advised the prime minister, that it is my desire to demit office as the chief justice of the Bahamas on obtaining my 60th birthday in August of 2014 – a birthday that I shared with him.
"I advised him that this was the decision that I had made with my family and dictated purely by my own personal circumstances. I enjoy being a judge and I was not overwhelmed by the challenges in the legal office of chief justice. I made this decision with much reluctance and after much thought and prayer.
"The prime minister asked me to reconsider my decision and assured me that it was not his desire, or the desire of the government, that I should demit office before obtaining the constitutional age. He assured me that notwithstanding the political differences that we had over the years, he and his government were confident that I was discharging my duties as chief justice with integrity and propriety as the office demands."
The chief justice said he spoke with relatives again and then told Mr Christie that he would still demit office. The prime minister asked him to remain in office for the entire year of 2014 and Sir Michael said he agreed.
"In the circumstances, this will be my last year that I will preside over the opening of the Legal Year as chief justice of the Bahamas. I have discussed in some detail my discussions with the prime minister to dispel any rumour that I am in any way being forced out of office or that I am leaving office because of a friction with the government."
When, after the proceedings, asked if the country could potentially see a woman become chief of the judiciary in the future, Attorney General Allyson Maynard-Gibson, QC, told The Tribune: "You'll see a female everything in the future, I'm sure of that."
However, she emphasised that the appointment "is a matter for the prime minister and consultation with whom he must seek advice" and that the appointee should possess qualities like Sir Michael – someone of "integrity, intellect, legal acumen and work ethic."
"If you look at his resume, you'll see that it is replete with examples of public service. I do want to also have standout his commitment to his church, his service to his church. Justice is a God-given concept and he is a devout Christian and I thank him for bringing that also to his service," she added.
In 1996 Dame Joan Sawyer, now retired, became the first Bahamian woman to be appointed Chief Justice of the Bahamas Supreme Court, followed in 2001 by her appointment as President of the Court of Appeal.