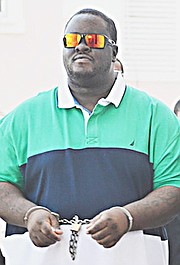 By LAMECH JOHNSON
Tribune Staff Reporter
ljohnson@tribunemedia.net
THERE would have to be exceptional circumstances for the court to grant bail to a man serving a life sentence for murder, the Court of Appeal told a lawyer yesterday.
Andrew "Yogi" Davis and his lawyer Ian Cargill appeared before Justices Anita Allen, Neville Adderley and Jon Isaacs for what was expected to be a bail application ahead of his February 26, 2015 substantive hearing.
While Davis is currently on record as only contesting his sentence for the 1999 murder of Constable Jimmy Ambrose, he is intending to also contest his conviction alongside fellow convicts Stephen "Die" Stubbs and Clinton "Russ" Evans.
In yesterday's proceedings, Mr Cargill informed the court that his client's medical records at the Princess Margaret Hospital had yet to be turned over.
The lawyer feared for his client's ailing-health given the present conditions at the Department of Correctional Service to which his client is exposed. He also mentioned a claim by a prison physician who documented that Davis would receive better treatment at the prison than in hospital.
Justice Allen, however, said that the former issue was not relevant to the proceedings.
Mr Cargill claimed that physicians were able to prolong his life but said his client was "sick and dying in prison".
Justice Allen replied that based on the letter, Davis is receiving more treatment than others at the prison and questioned how this was an issue for the court to consider bail.
"They did provide a sleep machine for him that cost $1,400," the judge noted.
"This is why we need the health records," Mr Cargill replied.
"I've said it before that there has to be exceptional circumstances to allow someone convicted and sentenced . . . and serving life imprisonment, to be allowed bail pending appeal," Justice Allen stressed.
Justice Adderley agreed with the appellate court president.
Mr Cargill noted that the transcripts were still outstanding and further emphasised the likelihood of his client's appeal being a success was an exceptional circumstance, based on what transpired during the second retrial in Supreme Court.
He explained that at one point during the trial, he was before the appellate court when the trial judge, knowing this, continued the trial in his absence.
The court noted that Davis' appeal, from the court's records, was solely against sentence.
Mr Cargill explained that it was an error that would be corrected by the end of the day.
The court said it would address the issue of bail on February 25, the day of the substantive hearing.