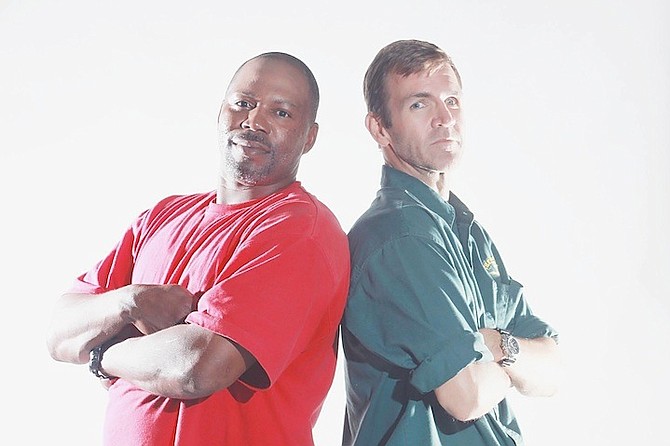 By RICARDO WELLS
Tribune Staff Reporter
rwells@tribunemedia.net
TWO more Bahamians are on their way to the North Pole after a local merchant and his best friend received an invite to take the place of two ski team members who withdrew from an upcoming six-man exploration to the area.
Mark Roberts, proprietor of FYP/Builders Mall, and Shaune Adderley are scheduled to join the experienced four-man group in April for the "dangerous and challenging" 100-mile trek on moving sheets of ice.
Four members of the team have, at some point, travelled to the South Pole.
The North Pole quest is rated as one of the top 20 toughest challenges in the world and the two men, if successful, will be the second and third Bahamians to have ever accomplished the task.
In 2013 Nassau born, New York-based artist Tavares Strachan completed the first successful expedition to the North Pole by a Bahamian in which he retraced the steps of Robert Peary and Matthew Henson.
In 1909, Mr Peary and Mr Henson completed the first successful expedition to the North Pole. However, questions were raised over details of the journey, specifically if Mr Henson, who is African American, did in fact arrive before Mr Peary, and which of the two men planted the American flag.
Based on reports, Mr Henson actually walked ahead and crossed the North Pole before realising he had overshot Mr Peary. He turned around, retrieved Mr Peary and guided him back to the pole to plant the American flag.
Mr Roberts said: "I got a call from one of the members of the team, he mentioned that two of his teammates bailed and that there were two open spots. He issued the challenge and said that he would have to babysit us the entire trip, he said we couldn't cut it.
"I mentioned it to Shaune and before I knew it, we were training to get it done. Now 'Popsicle one' and 'Popsicle two' are on their way to the North Pole," said Mr Roberts.
"Shaune told me that I needed a lot of meat on my bones and I told Shaune he needed to cut a lot of meat off his belly. Team Bahamas has started our training and will eventually be putting in three to four hour training sessions to prepare for the five-day ski trek in temperatures that average from -20 to -40F," he added.
"We cannot train for the cold, but the majority of our conditioning will involve towing 100 pound sleds and developing hand strength and core strength. We will have to be able to set up camps on floating ice, in freezing temperatures and possible hurricane force winds."
He added: "It sounds like fun. I even asked if they have conch at the North Pole so we could do a little diving too!"
Mr Roberts said the two men are looking forward to making the country very proud.
"The seasoned team has already claimed that they will be babysitting us which has strengthened our resolve to show them not only our tough spirit, but our true determination and grit during this adventure."
Mr Roberts added: "Our trainer said he has never seen anything so strange; one man needs to lose 40 pounds and the other needs to gain 40 pounds. He said putting it in plain and painful English, the wind will blow me backwards if I do not get a lot stronger and Shaune would break the thin ice if he wasn't careful."
"The trainer is cold!"
He added that he hoped Bahamians will embrace the two as they prepare for the journey.
"This is a big deal and I hope that you will all experience some of the adventure with us over the next four months," Mr Roberts said.