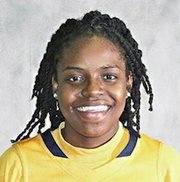 By BRENT STUBBS
Senior Sports Reporter
bstubbs@tribunemedia.net
SHE is only the second Grand Bahamian and the third Bahamian female basketball player to advance right out of high school into a major division one collegiate programme. But the way Jonquel Jones has performed so far through her junior season is quite remarkable.
The 21-year-old, 6-foot, 4-inch forward, who transferred from Clemson where she averaged 9.8 points, 10 rebounds and 2.1 blocks per game in eight games, is leading the George Washington University Colonials with 16.1 points, 11.9 rebounds and 1.8 blocks through 16 games, earning five Atlantic-10 Player of the Week awards, including the last three weeks in a row.
Equally as important, she has the Colonials riding a 15-game winning streak after she posted her sixth straight double-double with 20 points and 17 rebounds as the No. 24 ranked George Washington pulled off an impressive 83-56 victory over Atlantic 10 rival Duquesne at home in the Charles E Smith Center on Wednesday night.
Nobody was more pleased with her effort than head coach Jonathan Tsipis.
"I think the fact that she's had a whole season opposed to her first year when she transferred on December 31 has really helped her," Tsipis said in an interview with The Tribune. "She missed her first three games of the season this year, but being the type of player that she has developed into, her skills are so versatile that her teammates have been able to adapt to her.
"I think, in games where we have to really do a lot of things through her, she has really responded with some of her best games of the season."
For Jones, who follows in the footsteps of Yolett McPhee-McCuin, who played for Florida Atlantic/Rhode Island) and Waltiea Rolle (North Carolina), said not only is she playing well, but her Colonials teammates are clicking on all cylinders, which has made the difference.
"Everybody is playing at a very good level and intensity right now and everything that I do is really a reflection of the team," she said. "They are getting me the ball, but we're all doing whatever we need to do to keep moving on. We all have that unselfish attitude from top to bottom and we're looking out for each other with a family atmosphere. It's really good. We're playing very well."
As a versatile performer who has scored in double figures every game so far for the Colonials, to go along with her sixth straight double-double outing on Wednesday in just 24 minutes against Duquesne, Tsipis said it's that type of consistency that has made her a leading candidate for the Naismith Award.
The award, held in memory of the late Dr James Naismith who invented basketball in 1891 after seeing the need for indoor sports options during the cold winter months, is presented at the end of the season to the top male and female player in college basketball.
"She sees some of the types of different defence almost every game with the focus on guarding her with more than just one person," said Tsipis of Jones' ability to still prevail under any circumstances that she found herself in.
A modest Jones said she's not even concentrating on the individual accolades. Her focus is on getting her team to win the title.
"At the beginning of the year, people have asked me about my goals and I told them I just want the team to do what we need to do to win games and put ourselves in a position where we can elevate our level of play from last year," she said. "So once we do all those things that we need to do to win. Those individual stuff will follow. But I don't focus too much on that stuff. I just want to let it flow."
While the Colonials remain perfect at 6-0 in the A-10 play and off to their best 19-game start in their school history with their 15-game winning streak equalling the third-longest ever by a GW team and ties Long Beach State for the fifth-longest active streak in D-1, Tsipis said the fact that they have held their third straight opponent to less than 60 points bodes well for what their offence is capable of with Jones being a pivotal factor.
"We play one more games before we get a bye in the schedule, but I'm excited because we have been able to be consistent whether it's home or away and right now as one of the teams playing the best basketball in the nation, you're going to get everybody taking a shot at you every night, especially now that we are ranked 24th in the nation," he said.
"We understand that there is a giant target on our back, but I think our kids have been very humble and I think they understand that it's one game at a time and that no one game is any more important than the other. They are all important in leading us to the A-10 championship, which is our ultimate goal."
Jones, on the other hand, said she just wants to see her team play as best as they can. "It's really fun to be a part of something that is so special with the winning streak," she noted. "But every game and every practice, coach always challenges us to not worry about the streak, but just really look at the next game as the next challenge and so we try to overcome that challenge. Once we do that, everything else will fall into play."
As a Bahamian, Jones said there's a lot she's carrying on her shoulders, but she's eager to play her part.
"To come from the Bahamas and to be able to do all this great stuff is awesome, but for me, it's not able looking at me being over here and doing what I'm doing, but it's about trying to get more Bahamians to come over and follow their dreams," she said. "So it's great to kind of continue to pave the way for those who are coming behind me."
While this is the first Bahamian that he has come in contract with, Tsipis has admitted that after taking the Colonials to the Bahamas to play in the Thanksgiving Tournament in Jones' hometown of Grand Bahama in November, he got a better appreciation of the work ethic that she brings to GW as they visited the background where she came from and that helped her teammates as well.
"There's nobody else like her in our league," said Tsipis as he made the comparison to Jones as she gets lined up for the prestigious award. "But on a national scale, there are very few players who have her skills and her size. I think Breanna Stewart of the No.2 University of Connecticutt Huskies is the only other player who can affect things on the defensive end and handle the ball.
"I think people are seeing that potential in her the same way that have been seeing in her. So it's extraordinary, but the thing I like about Jonquel is that it doesn't change her at all. She is a phenomenal teammate, she puts the team success ahead of any individual goals and there are times that we think she is too unselfish. But based on all that she has achieved, we have taken care of business."
The trip home, according to Jones, was great for bonding their team because they "ate a lot of conch, did some dancing and we won the championship."
But she said it would be an even greater feeling at the end of the season if the Colonials can hoist another title in the air as they celebrate the A-10 championship victory and she can go back to Grand Bahama to show off.
As the future looms in the horizon, Tsipis said they have a cordial relationship with the Washington Mystics of the Women's National Basketball Association (WNBA), which has been in and out of their programme, pushing Jones in practice and games in a view of getting her ready for the next level.
"She has responded to some of the feedback and so without question, as a sophomore, she was already on their radar and they continue to come, so it's great to have them come there and give their perspectives on things," Tsipis said. "Without question, she's somebody I know they are looking at with high expectations to being drafted very high when she's finished college."
Jones, the daughter of Ettamae and Preston Jones, wants to set an example for her siblings - two brothers David and Tino and four sisters Danielle, Niya, Juanita and Prestina.
So far, she has set a fine example for the Jones, the Bahamas and the Colonials.