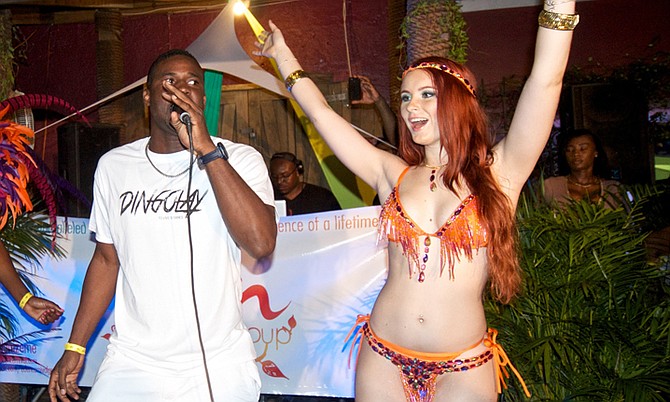 By SANCHESKA BROWN
Tribune Staff Reporter
sbrown@tribunemedia.net
THE government's inaugural Bahamas Junkanoo Carnival has drawn more controversy, with the Bahamas Christian Council denouncing the "immodest" costumes for the planned event, saying the scant attire could lead to "fornication, promiscuity, rape incest" and other "sins of the flesh."
The stinging remarks came days after three members of the carnival's commission resigned when the government refused to sign off on a nearly $2m deal for Janet Jackson to perform during the controversial event in May, according to Tourism Minister Obie Wilchcombe.
In a statement released yesterday, Christian Council President Rev Dr Ranford Patterson said the group has concerns over the "immodest" costumes for women being promoted for Bahamas Junkanoo Carnival.
While applauding the government for seeking ways to boost revenue, Rev Patterson said it appears as though Bahamian women's sexuality is "being overtly exploited for monetary gain".
He said in the current atmosphere of promoting gender equality, the carnival commission should not display women as "mere objects of lust".
"We do not share the view that our women should be on display as objects; accordingly, we call on all concerned to resist the push to treat our mothers, daughters and sisters with such gutter-like disrespect."
He added: "We are of the view that the promotion of immodest costumes, such as those displayed for use in the upcoming Bahamas Junkanoo Carnival, will not only promote promiscuity, but fornication, rape, incest, and other sins of the flesh as well. Such immodest and immoral body displays could well become the breeding ground for the premature sexualisation of our children as they will not be immune from these perversions."
The church leader urged the government to "be careful of the gates they are opening" to increase the country's revenue, saying once open they will be hard to close.
Resignations
On the issue of the resignations from the event's commission, Mr Wilchcombe said there was some "concern" that Ms Jackson, an American pop singer, would not be able to draw enough people to the Bahamas to warrant such a huge investment. He also said the focus of Junkanoo Carnival should be and will be on the Bahamian acts and entertainers and international artists should be secondary.
"Three members resigned over a disagreement concerning about $2 million for Janet Jackson as well as some other issues," he said.
Mr Wilchcombe was contacted after a report surfaced in a local daily, claiming one of the commission members, Freddie Munnings, resigned due to "bureaucratic interference by political operatives and certain ministers of the government."
"They presented a proposal to us and we reviewed it and they were concerned about the length of time we took to do our research and due diligence," Mr Wilchcombe added. "I can admit that was my fault and the communication was off. The prime minister gave me a role to play and at the end of the day we have to be accountable. Two million is a lot of money, especially when there are artists that we can get for considerably less. We also have to consider whether she can draw people to the Bahamas and more visitors to our shores. We cannot spend that much on a international artist without investing in our own Bahamian product."
Mr Wilchcombe said yesterday now that Prime Minister Perry Christie has asked to become "more involved" in the event, he will ensure that more Bahamian culture is added to the mix.
"It is a Bahamian affair and we have to make sure that comes first. We have to get as many Bahamian groups and Junkanoo artists as we can. We have to be proud of and showcase our own culture. We want to use this as a platform to spread it around the world," he said.
Along with Mr Munnings, Ed Fields and Inga Bowleg have also resigned from the commission.
The event has also attracted political criticism.
Yesterday former Free National Movement Chairman Darron Cash said news of the resignations just months before the planned event shows that "the much heralded bastardisation of Bahamian culture called Bahamas Junkanoo Carnival is unravelling due to failed political leadership."
"The mass resignations from the Carnival promotion commission reflects failure on the part of the prime minister," Mr Cash added. "If this is what he is doing with our VAT money then God help us. The disaster that is Bahamas Junkanoo Carnival reflects a divided Christie government in crisis."
Also yesterday, Bahamian entertainer Dillon McKenzie sounded off about disparity between what international performers will receive compared to local acts.
In a post on Facebook, he said Bahamian entertainers are collectively receiving $50,000 for their performances in the planned event.
Junkanoo Carnival will be a series of cultural events starting on Easter Monday and ending on May 9.
Officials have said it will cost $9 million to stage the event.