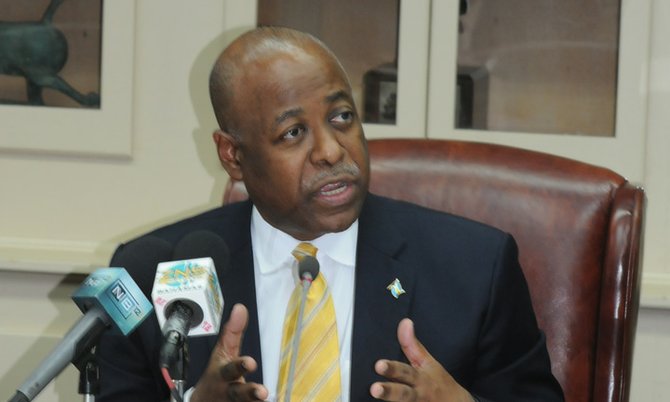 Reader poll
169 total votes.
By SANCHESKA BROWN
Tribune Staff Reporter
sbrown@tribunemedia.net
TOURISM Minister Obie Wilchcombe said yesterday the Bahamas Junkanoo Carnival Commission will take the Christian Council's recent concerns regarding the upcoming festival "into consideration" but stressed that celebration will encourage "Bahamianism" and not "sins of the flesh."
He also denied rumours that event organisers are collectively paying Bahamian entertainers $50,000, stressing that each local act will be paid what they are worth.
"The Christian Council has a moral responsibility to the country, so what they said must be looked at and analysed and we must ensure we do not cross borders," the tourism minister said.
"We will pay respect to the council by considering their arguments. All efforts made going forward will ensure decency and order are a part of this cultural expression."
"We do not want to offend anyone but at the same time we have to push Bahamians and 'Bahamianism,' this festival will do that just. It will take the Bahamas to the world."
His comments came one day after the Bahamas Christian Council denounced the "immodest" costumes for the planned event, saying the scant attire could lead to "fornication, promiscuity, rape incest" and other "sins of the flesh."
In a statement released Monday, Christian Council President Rev Dr Ranford Patterson said the group has concerns over the "immodest" costumes for women being promoted for Bahamas Junkanoo Carnival.
While applauding the government for seeking ways to boost revenue, Rev Patterson said it appears as though Bahamian women's sexuality is "being overtly exploited for monetary gain".
Mr Wilchcombe also responded to criticism from some local entertainers about the event.
He said that despite the "noise in the market", Junkanoo Carnival is and will always be about promoting Bahamian music and culture. He denied rumours that the commission is offering Bahamian artists "peanuts" for their talent.
On Monday it was revealed that the Carnival Commission was seeking to pay American pop star Janet Jackson $1.9 million to perform during the week of activities, a proposal that was rejected by the government.
Bahamian entertainer Dillon McKenzie sounded off about the disparity between what international performers will receive compared to local acts.
In a post on Facebook, he said Bahamian entertainers are collectively receiving $50,000 for their performances in the planned event.
"Truth is we want Bahamian artists to perform and they will be properly compensated for their talents. There is no budget and we will pay each artist what they are worth," Mr Wilchcombe said.
"They will be featured prominently and will be satisfied at the end of the day because without them we won't have the culture and we won't have a real show. They can rest assured that Bahamians will dominate the show. If we bring other people in they will be celebrating with us, not dominating the show. We have entertainers and artists here that can compete with the rest of the world. The Bahamas will be showcased properly.
"We are raising the level of Bahamian participation; we let Bahamian music suffer and fall apart for decades and now we will celebrate our own."
Three members of the carnival commission recently resigned; two of them, Ed Fields and Freddie Munnings, reportedly left the commission due to issues with the government and the other, Inga Bowleg, reportedly needed more time to devote to her career.
Junkanoo Carnival will be a series of cultural events starting on Easter Monday and ending on May 9.
Officials have said it will cost $9 million to stage the event.