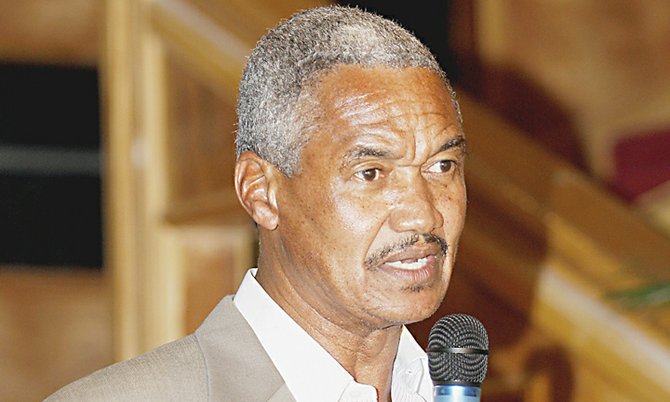 By SANCHESKA BROWN
Tribune Staff Reporter
sbrown@tribunemedia.net
TALL PINES MP Leslie Miller has apologised for his "ignorant" remarks regarding the inaugural Bahamas Junkanoo Carnival.
Mr Miller told The Tribune yesterday that at the time he said Junkanoo Carnival was garbage, he was "ignorant of the facts" and "spoke out of turn". In fact, he said now that he has had all the information presented and explained to him, he has had a "change of heart" and now fully supports Bahamas Junkanoo Carnival.
Mr Miller blamed his ignorance on bad public relations from the Junkanoo Carnival Committee and "misinformation" from someone who was "angry" at the government.
"I was going home and I heard someone from the committee on the radio explaining in detail what the event was going to be. I was really impressed at what he said and was surprised how good he was at going into detail, everything he was asked, he was able to answer," Mr Miller said.
"I found out that this is going to be a Bahamian thing with 64 Bahamian musicians and entertainers taking part. It is not as vulgar as people think, as I thought and what he said made sense. I really got some bad information from one of the Junkanoo fellas and I went off of that.
"I was wrong and I apologise. I think those guys have a poor marketing and public relations team. I think what the government should do is have a two-hour programme where the committee can explain exactly what is going to happen with the festival to the people. So I was wrong and I am not afraid to admit I was wrong. I called the Prime Minister and apologised to him personally as well."
Mr Miller said he thinks those who are against Junkanoo Carnival should "give it a chance" and not condemn it "before it begins".
"I think if it is done properly, this will benefit us greatly as  country. All Bahamians need to give it a chance, see what happens before you judge it. The Prime Minister assured me that it will not be a negative thing and said he would never promote 'garbage'. This is going to be a good thing for us and now I am on board."
On Thursday, Prime Minister Perry Christie passionately defended the inaugural Bahamas Junkanoo Carnival from detractors and hit out at the "intrusiveness" of Mr Miller, who called the planned festival "garbage."
On Tuesday, Mr Miller suggested Carnival could have a negative impact on youth by being sexually suggestive and said he had "no appetite" for the festival's sexually charged nature.
Mr Christie said he "welcomed" Mr Miller's "grave reservations" about Carnival, adding the MP could have simply talked to him personally about his views. The Bahamas Junkanoo Carnival takes place in May.