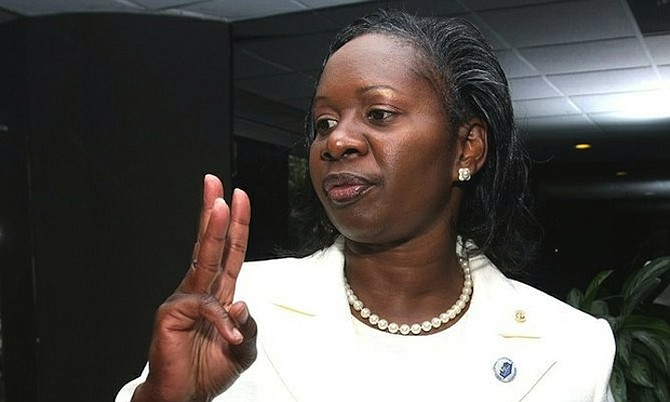 By SANCHESKA BROWN
Tribune Staff Reporter
sbrown@tribunemedia.net
BAHAMAS Union of Teachers President Belinda Wilson said today she has been approached by a political party to run in the next election and despite making "no commitments" she can "never say never".
On a local talk show Mrs Wilson said the BUT and its members are her first priority at this time but if she decided to enter politics, the decision will be hers and hers alone.
She also stressed that she currently has no allegiance to any of the three major parties.
"Belinda Wilson has no allegiance to the Progressive Liberal Party. I have no allegiance to the Free National Movement and none to the Democratic National Alliance. I have not been involved and I have not been to any political activity, be it a rally or political meeting, no convention or anything of the sort from November of 2001," she said.
"So I have not been involved politically involved in 14 years. I have been approached but at this time I have aspirations and I have made no commitments. I note that you never say never but that consideration will be left to me and me alone if I chose to do so.
"At present I must say to you that my priority is the BUT and I intend to use it and the passion and knowledge I have to ensure the BUT gets the best agreement right now and I am able to carry out the mandate the members have given to me as leader of the union."
Mrs Wilson also stressed that she intends to move the union past "the latest internal drama", adding it is "up to the Executive Committee to decide whether they are willing to work with her".
"I am willing to healing the wounds, I can say that I am truly amazed with what God has done with me," she said. "I hold no animosity and I am prepared to work forward and work with each individual. But they must in their own heart decide whether 'I can work with Belinda for the betterment of the union'. But Belinda Wilson is here for this season and I intend to carry out the will of the people and the will of God in my life."
Mrs Wilson was reinstated on Tuesday as president of the BUT after a brief suspension. She was suspended in December over two undisclosed, alleged "violations".
The appeals committee of the BUT lifted that suspension after it found no wrongdoing on the part of Mrs Wilson or BUT Treasurer Laurie Knowles, who was also suspended.