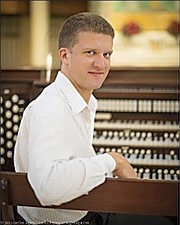 ORGANIST Matthew Steynor returns to Nassau on Thursday night to give a recital entitled "Music Of The Light" in Christ Church Cathedral.
A former associate organist of the Cathedral, Mr Steynor is now Director of Music at Trinity Cathedral in Miami, Florida, and Adrian Archer, Director of Music at Christ Church, is delighted to see him return.
"We are so very pleased to have Matthew offer this recital," said Mr Archer. "He is no stranger to the Cathedral or the music scene here in The Bahamas because while he served as an associate organist here at the Cathedral he also worked at St John's College and made many connections in our community. Any organ recital offers the listener a chance to hear the organ unlike it is heard during worship service."
The Cathedral's great organ, built by the German Oberlinger Organ Company, has 39 ranks, 3,900 pipes and is capable of producing many sound combinations. It is the largest Pipe Organ of its type in the region, including southern Florida. Thursday's programme of music from composers includes J S Bach, Herbert Howells, Arvo Part, Theodore Dubois and Spanish composer Jose Jesus Estrada. The recital beings at 7.45pm and admission is free. An offering will be taken to aid the music department of Christ Church Cathedral.
Mr Steynor's journey to Miami from his native Britain was via The Bahamas, where he lived for two years. While in Nassau he worked at Christ Church Cathedral, taught elementary music at St John's Anglican School and (in his second year) was conductor of the Bahamas Concert Orchestra (now the Bahamas National Symphony Orchestra). He also recorded and performed (as organist) with The Bahamas National Youth Choir.
He is a graduate of Cambridge University (UK), where he earned a Master of Arts degree and a Postgraduate Certificate of Education. He was the organ scholar at Queens' College, followed by a year at Great St Mary's, The University Church, before emigrating to Nassau. He still performs organ recitals in the UK and this year is playing two recitals in London, including one at St Paul's Cathedral. Most of the works being played in London will be performed at his recital in Nassau.
In Miami, British-born Mr Steynor oversees a busy music department, plays the organ and directs two choirs. He co-founded The Anglican Chorale of Southeast Florida, a choir employing a model used in the Bahamas, where singers from churches across the Diocese combine to sing traditional Anglican music, in this case the service of Evensong. As an organist, he has played all the major instruments in South Florida in solo recitals, liturgies, conventions and workshops for organisations such as the Church Music Association of America and the American Guild of Organists. His annual recitals at Trinity Cathedral feature original transcriptions of popular orchestral works, including Elgar's "Enigma Variations", Holst's "The Planets", Mussorgsky's "Pictures at an Exhibition" and Gershwin's "Cuban Overture". Last year, he presented Trinity Cathedral's Jubilee Recital series, celebrating the renovation of Trinity Cathedral's historic organ and featuring guest organists from some of the world's most famous cathedrals.
In addition to his duties at Trinity Cathedral, he has also worked (as organist) with the Miami Bach Society, Symphony of the Americas and the Miami Symphony Orchestra in addition to choirs from the University of Miami and Florida International University. For six seasons he worked regularly with the Master Chorale of South Florida and Florida's Singing Sons Boychoir, including international tours. He has been heard on the nationally syndicated Minnesota Public Radio show, Pipedreams, and in 2008 was one of 50 choirmasters selected to participate in BBC Music Magazine's worldwide "Fifty Greatest Carols" survey. As a conductor he also works occasionally with the vocal students at New World School of the Arts, including an interim appointment as their choir director in 2014.