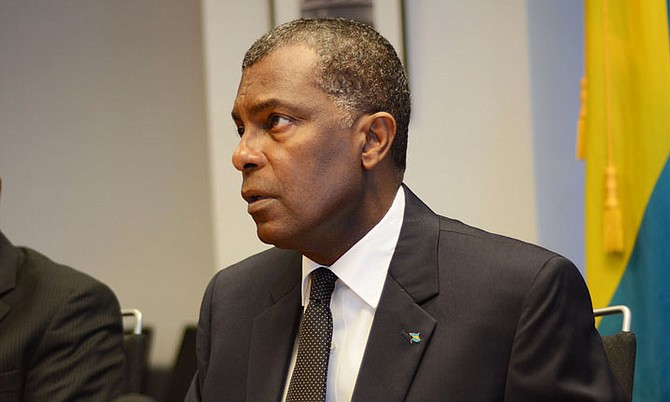 By AVA TURNQUEST
Tribune Chief Reporter
aturnquest@tribunemedia.net
FOREIGN Affairs Minister Fred Mitchell yesterday delivered a veiled attack against Baha Mar's shock Chapter 11 bankruptcy filing, which he termed an "act of unfairness on the Bahamian people".
Mr Mitchell cautioned that onlookers of the stalled $3.5bn project must not be "hornswoggled" by selfish acts disguised as altruism.
He added that the truth surrounding the mega-resort's controversial development will be revealed once the "dust has settled".
"We had hoped that the Baha Mar resort would be open by now," he told parishioners at St Matthew's Church Independence Day service in Delray, Florida.
Pointing out that the country's youth unemployment level was at 30 per cent, Mr Mitchell explained that Baha Mar was meant to employ some 5,000 persons as the largest hotel investment in the Caribbean.
He said the potential could still be realised and that persons should not lose faith.
Mr Mitchell added: "Neither must they be hornswoggled by the blandishments and disguises of those who say they are doing something for your own good while in reality, it is for their own good.
"The Bahamas government is the place where people look to solve the larger issues. With this Baha Mar issue, which involves Bahamian land, Bahamian employees, there could be no turning back in the face of an attempt to effect an act of unfairness on the Bahamian people while trying to fool us that they were looking out for our best interests."
He added: "There is a great deal of patience that will be required on the part of us all as the scenario unfolds but please be assured that the project has to succeed and at all times the government will look out for the best interests of the Bahamian people.
"When the dust has settled, the truth will out and the project will succeed," the Fox Hill MP said.
Last week, Prime Minister Perry Christie said Baha Mar's decision to file for Chapter 11 bankruptcy in a Delaware court came without notice to the government.
In an admission that led observers to believe he was blindsided by the move, Mr Christie said the decision by resort CEO Sarkis Izmirlian came at a point when his personal intervention with all parties involved led to a substantial agreement on a packaged solution for additional funding by the China Export-Import Bank, Baha Mar's lender.
In an interview with The Tribune last week, former Deputy Prime Minister Brent Symonette said if Mr Christie did not have prior notice of the bankruptcy, then Baha Mar executives have shown "a great degree of disrespect" and "contempt" for the country. He added that the bankruptcy filing would spark a domino effect on the economy.
On Thursday, the Supreme Court adjourned Baha Mar's case until next Tuesday during a hearing on whether it would ratify a US Delaware Court's ruling allowing the resort to begin tapping into $80m in debtor-in-possession financing as part of its bankruptcy filing. Thirty million of this financing is to be used over a 30-day period.
Meanwhile, the government has said it would pay Baha Mar's staff salaries for the pay period ending July 3.