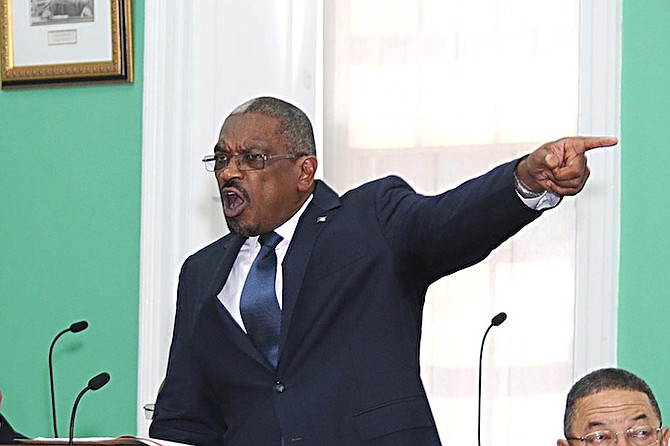 BY SANCHESKA BROWN
Tribune Staff Reporter
sbrown@tribunemedia.net
FREE National Movement Leader Dr Hubert Minnis said he left Prime Minister Perry Christie's office yesterday morning "extremely upset", after the nation's leader showed up nearly an hour late for a planned meeting with the opposition on Baha Mar's bankruptcy filing last week.
Dr Minnis said he told Mr Christie in a letter that he would be available to meet on July 6 at 10am to discuss the matter. The Tribune has obtained a copy of that letter, dated July 3.
However, Progressive Liberal Party Chairman Bradley Roberts said the meeting was set for 11am. Mr Roberts accused Dr Minnis of "letting his super sized ego supersede his good judgment" and "scampering off" from the Office of the Prime Minister before the meeting was scheduled to begin.
Yesterday, Dr Minnis told The Tribune he formally accepted Mr Christie's invitation to have a briefing "in the interest of transparency" on the $3.5 billion resort. He said he and other members of the FNM arrived at Mr Christie's office 15 minutes before the scheduled meeting, but the prime minister was not there.
However, a source close to the Office of the Prime Minister said the meeting was only supposed to be with Mr Christie, Dr Minnis and Sir Baltron Bethel – the senior policy advisor to the prime minister.
But Dr Minnis showed up with Member of Parliament for Long Island Loretta Butler Turner, Member of Parliament for Montagu Richard Lightbourn and Senators Carl Bethel, Lanisha Rolle and Michael Pintard.
"My team and I got there at about 9.45 and stayed at the Prime Minister's Office until 10.30," Dr Minnis said.
"Mr Christie sent me a letter telling me he would like to meet me at his earliest convenience and I replied and told him I would be available at 10am. He did not show up so we left."
He added the Official Opposition wants to meet with Mr Christie about the issue, but wants the relevant documents about Baha Mar provided beforehand.
"If the prime minister is serious about moving forward, then we want the communications in respect to Baha Mar in advance," he said.
"The opposition is serious about the success of Baha Mar, maintaining the jobs of Bahamians and we recognise how important Baha Mar is for the economy, especially after the statements made by Standard & Poor's, and ensuring the security of our economy. We are prepared to have discussions with the government, however, I require the relevant communication with government and Baha Mar stakeholders in advance."
However, Mr Roberts had a different version of events.
"Prime Minister Christie, true to his word, and serious about transparency, invited Hubert Minnis and his team to a briefing on Baha Mar at the OPM for 11 am. However, Dr Hubert Minnis, true to his nature, and halfhearted concern for thousands of vulnerable Bahamian employees, left before the meeting even began. What is to be made of this?" Mr Roberts asked.
"The prime minister and his team were present and eager to sit with him. Did Dr Minnis' super-sized ego supersede good judgment and genuine concern, again? Or is he just afraid to sit at the table with real leaders and discuss the truth? "Whatever Minnis' reasoning, his behaviour points to the credibility of murmuring in his own camp; that he simply unfit to lead, especially on serious matters."
Mr Christie extended the invitation to Dr Minnis during an emergency press conference held last Tuesday evening, hours after both the FNM and the Democratic National Alliance (DNA) laid blame for Baha Mar's shock bankruptcy filing at the feet of the government.
Dr Minnis told The Tribune last Wednesday that he would first canvass his parliamentarians and senators for their views on the government's offer before committing himself to the briefing. At the time, Dr Minnis claimed that Bahamians felt jaded by the government's repeated failures and had lost both trust and faith in the PLP's ability to govern.
On Sunday, Dr Minnis revealed in a press statement that he had accepted Mr Christie's offer.