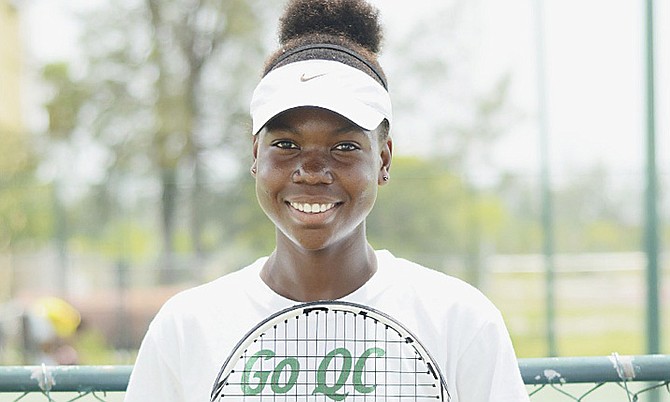 By BRENT STUBBS
Senior Sports Reporter
bstubbs@tribunemedia.net
Iesha Shepherd, unfazed when the pressure was applied, rode the momentum from her double dose of victory at the Bahamas Lawn Tennis Federation's Junior National Tennis Tournament and the support of the crowd at the National Tennis Center to win her first round main draw match at the ITF Junkanoo Bowl Junior Tennis Tournament.
Shepherd, the under-16 and under-18 girls singles champion at the tournament that wrapped up on Friday, opened the main draw play of the ITF junior circuit tournament yesterday with a hard fought come-from-behind 3-6, 7-5, 6-1 win over American Zoe Radojicic to remain the only Bahamian still alive.
The week-long tournament that played its qualifying rounds on Saturday and Sunday had an interesting opening day as Shepherd joined the field of girls and boys top three seeds, who all survived some intense and keenly contested matches that saw a number of Bahamians make their exit.
"This is amazing because I did this before when I travelled to World Juniors about three years ago. In Santo Domingo, I was down 5-2 in the third set and I came back and won," Shepherd said. "It wasn't nothing new for me. I experienced this before. All I knew was that I had to win because this was my final.
"If I had lost, there won't be any more singles for me. Now that I won, I can move on. I just put every ball in play and I succeeded."
In her gruelling match that lasted longer than any other played yesterday, Shepherd watched as Radojicic broke her twice for a 4-3 lead and a 6-3 decision to seal the first set. But with the crowd, including her parents Ivan Shepherd and Vernita Ellis, cheering her on, Shepherd mustered up enough energy to mount her comeback.
"I love my Bahamian people. I love my parents and my coach for their support," said Shepherd, who admitted that she couldn't have done it without them. "They helped me to pull through."
In the pivotal second set, Radojicic, ranked at 1,452 in the world, jumped out to a 5-1 lead. But Shepherd, who will eventually improve on her 1,752 ranking at the end of the tournament, broke Radojicic to start her comeback and the Bahamian got another to trim the deficit to 5-4.
Radojicic had to be checked out for a slight injury to her right side, but once play resumed, Shepherd kept her composure and held serve for a 5-5 tie. She then levelled the score at 1-1 as Radojicic had some difficulties with her serve, double faulting to enable Shepherd to pull off the 7-5 win.
"Sometimes some people use an injury as a strategy, but I experienced things like that before so I had to stay warm, stand up and start swinging my strokes and just played my game," she stated.
Then in the third set, Shepherd broke and held serve to go up 2-0. Just before Radojicic began her serve, referee George Baxter adjusted the net and that seemed to have worked against the American as Shepherd broke her again to go up 3-0. Radojicic returned the favour to trim the margin to 3-1, but Shepherd broke her again.
And after holding her serve, Shepherd began her celebrations as Radojicic doubled faulted twice at 15-30 and 15-40 to signal the end.
The end in the tournament came for Dominique Mortier, who also went to the third set, but was not as successful against one of the twin sister-brother combo as American Isabella Mermersky prevailed with a 6-4, 3-6, 6-4 decision in another marathon match. This match, at one point in the second set, had to get ITF Referee Mickey Williams to intervene as both players complained of the calls made against each other.
"It was not as I planned. I was shaky and I was making a lot of errors," said the miniature 5-foot, one-inch 16-year-old. "In the second set, I wasn't playing my game. I wasn't playing that smart. But in the third set, I finally adjusted and I just played my game and I finished it."
While Mermersky had to dig down deep for her victory, her twin brother Sebastian Mermersky, the No.3 seed, didn't have any problems in getting past Bahamian Bradley Fowler 6-0, 6-0.
Also on the boys' side, top seed Salvador Mijares of Venezuela, who is ranked at 296, pulled off a 6-1, 6-2 win over Luis Molina from Bolivia.
"I was adjusting to the environment because it's close to where we train," said Mijares, who made his debut in the Bahamas. "I got used to the wind and I was able to use it in my favour and I won. It was a pretty long match for me, but I know it will be even more harder when I play again."
In matches involving Bahamians, American Brian Cernoch defeated Joshua Turnquest 6-4, 3-6, 7-6, Croatia's Andres Loaiza def. Dylan Walker 6-0, 6-1 and American Andrew Fenty blanked O'Neil Mortimer 6-0, 6-0.
"It was very good. He played well," said Fenty, who is making his second appearance in the Bahamas, the first on vacation. "The tournament is good. I'm enjoying myself."
Mortimer, however, said he was disappointed in his performance.
"I don't think I was as focused as I should have been in the match," he said. "I didn't really start playing until the last set. I tried to pick up my momentum, but I still wasn't as focused as I should have. I didn't move my feet as much. But it was a good experience playing against these international players so we can see how the foreigners are playing and what we need to do to improve our game."
The girls' top seed Saya Usui of Japan had her share of problems dealing with the heat. And although she had to get some medical help on the court, she was still able to get past Luis Molina of Bolivia in straight sets 6-1, 6-2.
"It's too hot here. I've never played anywhere this hot," said Usui, who is ranked at 245 in the world. "I was trying to hold on. But today, I was very dehydrated, so I have to make sure that I am ready to play in my next match."
It's the summer, but 14-year-old Hurricane Tyra Black, the No.2 seed from the United States, who is ranked at 248, breezed past Maria Jose Zacarias 6-0, 6-1.
"The match was good. She played well too," said Black, whose older sister Tornado Alicia Black, is not playing here. "I thought I played pretty well, but I could have used my forehand a little more. Other than that, everything was okay. I'm looking forward to some good matches and I'm hoping to do very well."
In other matches played on the girls' side, American Katie LaFrance def. Bahamian Lauryn Daxon 6-0, 6-0 and American Naiya Oden def. Bahamian Isabel Donaldson 6-2, 6-1; No.3 American Kariann Pierre-Louis def. Kiana Mrshall of Barbados 6-2, 6-2; No.4 Maomi Idelis Waters def. Pinyi Zuo of China 6-0, 6-3 and No.8 American Julia Goldberg def. American Zoe Hitt 6-2, 6-0.