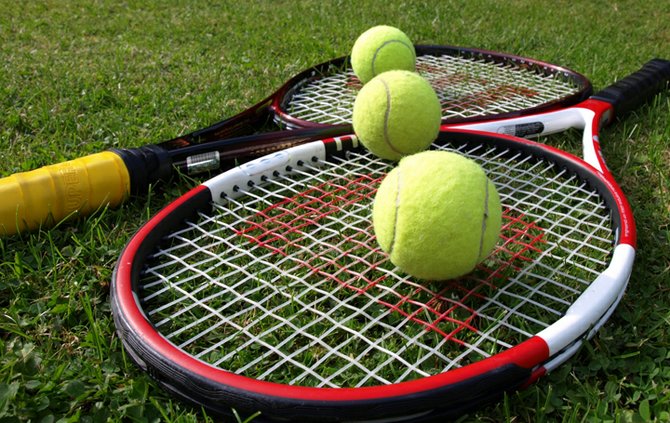 By BRENT STUBBS
Senior Sports Reporter
bstubbs@tribunemedia.net
IESHA Shepherd and Donte Armbrister both had dominating performances at the Bahamas Lawn Tennis Association's Junior Nationals. They emerged as double champions in their respective divisions at the end of the week-long tournament at the National Tennis Center.
Shepherd, the 16-year-old student of Queen's College, clinched the under-16 girls' crown with a 7-6, 7-3 win over Gabriela Donaldson and she struck lightning twice with her 6-1, 6-3 decision over Donaldson in the under-18 girls division. While Shepherd was the top seed in both divisions, Donaldson was the No.2 seed.
"This one had better competition because everybody improved their game," said Shepherd, who repeated as the champion in both divisions. "Everybody stepped up their game and so you had to come out here and play hard in order to win. I know my two finals against Gabbie was very tough.
"In the 18s, I got a little break, but in the 16s final, she played very well. She really stepped up her game and she gave me a good push. I was really pleased with my performance."
Donaldson, who turned 16 on June 26, said she enjoyed herself even though she fell short of the victory.
"It was good for the most part. I think the final could have been better," she said. "I could have fought harder, but I'm getting better. I know I had some tough matches against Iesha and I hope to use this as a learning experience to help me in the future because she was very tough to beat. I could have tried harder, but I'm just glad I got the opportunity to play her twice."
Armbrister, on the other hand, led the boys' division, taking the under-14 crown with a 6-3, 6-3 win over No.2 seed Jacobi Bain and he won the under-16 division in identical scores over Ahmad Thompson. Armbrister was the top seed in both divisions.
"It was good," said Armbrister, a 14-year-old student of Temple Christian Academy. "I enjoyed the under-14 division because it was my first national title that I ever won. I think my performance in the tournament was very good. All of my strokes were right there. I was really focused this time around."
In other finals on the boys' side, Daniel Clivio upset top seed Michael Major 4-2, 4-0 in the 10-and-under, Grand Bahamian Denali Nottage also beat Major 6-1, 6-3 in the 12-and-under, Joshua Turnquest knocked of No.2 seed Bradley Fowler 7-5, 6-0 and top seed Jerald Carroll def. No.2 seed Khai Rees 4-0, 4-0 in the 10s division.
"It was good. I had a lot of tough matches, but I came out with the victory," said Nottage, an 11-year-old student of Sister Mary Russell School. "I lost in the semi-final in the 14s last year and I lost in the quarter-finals in the 12s. This year, I won the 12s and I lost in the 14s in the quarter-finals, so I'm pleased with my performance."
Another Grand Bahamian Kofi Bowe didn't get into the final, but he was pleased to reach the boys 14s semi-final where he bowed out to Armbrister 6-0, 6-0.
"It was good. It gave up a warm up for the ITF," said Bowe, an 11-year-old student of Mary Star of the Sea. "I wasn't playing consistent. I was losing a lot of shots. Donte played good, but if I can work on my consistency and keeping the ball on the court, I know I can play better against him."
The only other final saw Elana Mackey, the No.2 seed, won the 14s title with a 6-4, 6-3 decision over Sydney Clarke, Emma Weech picked the 12s as the No.2 seed with a 6-4, 6-3 decision over No.2 seed Perjae Major and top seed Genesis Missick held of Kailtlyn Williams 4-2, 2-4, 14-12 for the 10s title.