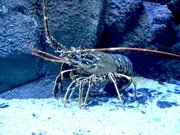 By DENISE MAYCOCK
Tribune Freeport Reporter
dmaycock@tribunemedia.net
AS THE lobster season approaches, fisheries officials are keeping an eye out for people who are intent on violating the law concerning the illegal possession of fresh or live crawfish before the season opens next month.
The Department of Marine Resources has issued an advisory to fishermen and the public that the crawfish season runs from August 1 to March 31, 2016. Anyone found or caught with live or fresh crawfish before August will be subject to penalties under the Fisheries Act.
Clement Campbell, Superintendent in the Department of Marine Resources in Freeport, Grand Bahama, was concerned that some people were already illegally harvesting crawfish. He said that he had observed vendors selling lobster dinners during the opening of the Goombay Summer Festival on at Taino Beach on July 2.

Mr Campbell warned that lobster caught on July 31 is considered illegal. "I want to advise the public, anyone that is caught selling lobster on Taino Beach for the remainder of this year's Goombay Festival (July 16, 23 and 30) will be arrested. Do not bring lobster to the festival to sell," he said. He believes that crawfish should be seasonal in local restaurants and with food vendors and that it will deter illegal harvesting of crawfish.
When the season opens, people who are caught with undersized and egg-bearing crawfish would be in violation of the law.

The department said fishers must take note that the minimum size limit for whole crawfish is three and a quarter inches carapace length. The minimum legal size limit on the crawfish tail is five and a half inches length. All fishers capturing crawfish are required to have a measuring gauge to ensure that they are able to confirm full compliance with the legal size requirements.
People wishing to use an air compressor to harvest marine resources must first obtain a permit from the Department of Marine Resources. Applicants must provide proof of Bahamian citizenship and that they have received adequate training in safely diving while using compressed air.
The air compressor permit allows the device to be used only at depths between 30 feet and 60 feet and its legal use is to assist in the harvesting of marine resources from August 1 to March 31 inclusive.
The public is advised to report all suspected violations to the Department of Marine Resources at 393-1014, 393-1015 or 393-1777. All violators of the Fisheries Regulations can expect to be prosecuted to the fullest extent of the law.