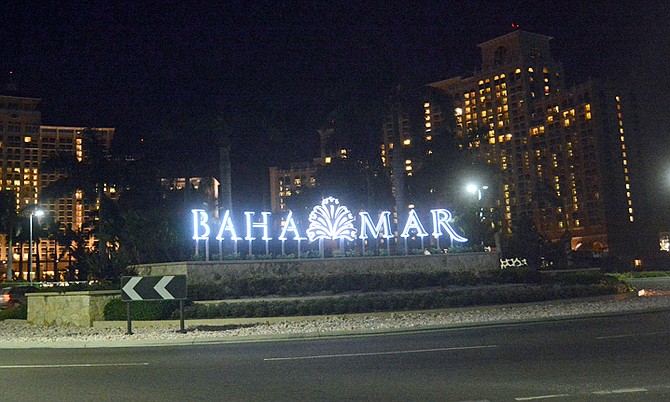 By KHRISNA VIRGIL
Tribune Staff Reporter
kvirgil@tribunemedia.net
PRIME Minister Perry Christie said yesterday he was optimistic that Baha Mar developers, China Construction America and the Export-Import Bank of China will reach a resolution on their issues allowing the $3.5b project to reach completion to hopefully get the property open for the winter tourist season in November.
However, speaking to reporters yesterday, Mr Christie said whether the ongoing situation reached an improved state before the next Supreme Court date into Baha Mar's US bankruptcy filing relied heavily on the parties involved. On Tuesday, the Supreme Court set down the Baha Mar matter until July 20, with an in chambers status hearing set for July 14. The matter was adjourned so all sides could get back to the negotiating table.
Mr Christie said as the resort is more than 95 per cent finished with just $300m needed for total completion, it was now more important than ever, to go back to the negotiating table.
"Let me tell you, just driving past there looking at that place and knowing the promise that it represents to thousands of Bahamians not just the 2,000 who are employed (there) but another 4,000 that could be employed in those places and that is what it is all about. That is why . . .we must finish to give him (the developer) an opportunity to meet the tourism season when it starts in November so that is what I am hoping that we are going to bring about," he said.
He added that as the Export-Import Bank of China requested that he mediate the discussions, he was hopeful that he could get all parties to agree on a way forward.
"Well (whether we are at a better place by the time we return to court) would depend on the real interest of the parties and reaching an agreement," Mr Christie said. "I am satisfied that all of those who spoke to me have that interest.
"The application (for the court adjournment) was made by Baha Mar's owners and developers and therefore it was presumed that they are making a serious application. If it is not so then we will soon find out and we have access to the courts before the date."
He continued: "As you know Baha Mar is planned to significantly impact this destination and so I am very happy that I was able to say that I have every reason to believe one way or the other we are going to move towards a resolution.
"The talks haven't started, the question is where do we meet. If I am to attend the meetings, the meetings could not be in China because China would require certain very advanced diplomatic manoeuvres to accommodate a head of state coming in. So if I am going to be a participant in the talks, the bank has asked me to become the chair of the talks, and that could only happen outside of China and either here or some other country if the parties decide that is what they want to do."
This week, the relationship between Baha Mar CEO Sarkis Izmirlian, Mr Christie, and general contractor China Construction America became more strained, with a war of words being played out in the press.
While Mr Christie said he has asked all stakeholders to put the incidents of this past week behind them with a view to come to the table with a clean slate, he reiterated that under no circumstance would he tolerate disrespect.
"I think (that the strong statements are behind us) and most certainly I hope so. But you know in these matters people say things and if they say things that I am in vile disagreement with I will respond accordingly and always doing so in the interest of the country.
"The good news is that we are resuming talks that I have asked for all of that talk be put behind us. I have no rancor. No feelings on the matter. Whatever views I have personally must be sublimated in the interest of the country.
On Monday, Baha Mar slammed the government for "concocting a sideshow for its own purposes" after the Christie administration accused the resort of being slow to provide necessary information, thus delaying salary payments to the resort's employees for the last pay period.
The resort also questioned why the Christie administration is not supporting Mr Izmirlian, who it said has been "victimised" by CCA, adding that the government's actions have "sown doubt" about the project's future.
Hours later, Mr Christie shot back saying he was disappointed in both the intemperate tone and incorrect content of Baha Mar's press statement. He also questioned Mr Izmirlian's mental health.
And in a statement released shortly after midnight on Tuesday, CCA blasted Baha Mar saying the shock resort's Chapter 11 bankruptcy filing was a direct result of its failure to secure adequate financing and its mismanagement of the property's design.
The government agreed to pay Baha Mar salaries last week, after an earlier adjournment of the Supreme Court's hearing into Baha Mar's application to ratify access to debtor-in-possession financing approved by a US bankruptcy court.