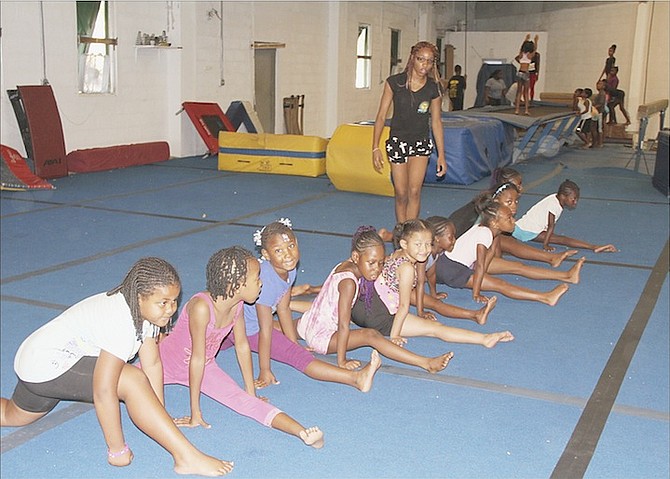 By ETHAN KNOWLES
AS AN engaging alternative to the listless lethargy of summer, the annual Nassau Nastics camp running at two New Providence locations is a fun and healthy option.
Nassau Nastics, a non-profit gymnastics organisation, is running its summer camp from late June to August 14, operating from 9am-2pm on weekdays at Oakesfield Gym and Seagrapes Gym under coaches Trevor Ramsey and Alexandra Deal.
An average week sees 15 to 25 boys and girls, aged five and up, who engage in daily exercises, stretches and "general conditioning" according to Mrs Deal. Beginners are offered the opportunity to explore the sport and competitive gymnasts, who normally train during the September-June season, can maintain flexibility and physical fitness.
"Even though it's a camp involving fun activities," Mrs Deal said, it's hard work seeing that participants do gymnastics for an average of three and a half hours each day alongside other exercises.
Following drop-off, campers take part in warm-up activities like stretches and muscle conditioning. And after a brief break, the children do 20- to 25-minute rotations between each integral gymnastic skill: bars, beams, floor and vault. A 45-minute lunch at noon is followed by structured games centred on the sport of gymnastics. Fresh takes on "Simon Says" and musical chairs can be expected.
Mrs Deal added that since the "kids don't realise they're exercising", the camp is a healthy and engaging alternative to the listless lethargy of summer.

The camp is $85 per week at Seagrapes and $75 per week at Oakesfield, without the inclusion of lunch. On Fridays, campers either go on field trips or fun days for an added cost. Details from 356-7722 or 364-8423 or email nassaunastics@
yahoo.com.