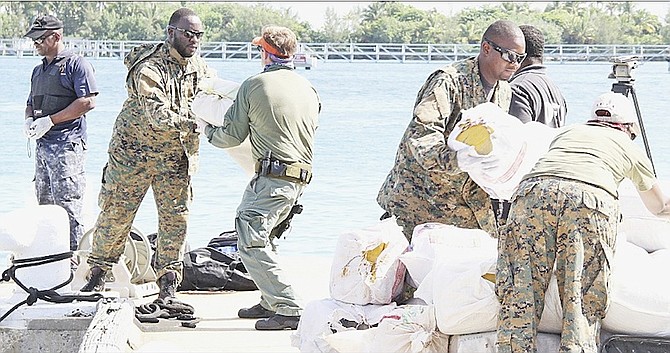 By LAMECH JOHNSON
Tribune Staff Reporter
ljohnson@tribunemedia.net
ONE of seven men faced with multiple charges stemming from the recent $4.6 million drug seizure pleaded guilty to his involvement at an arraignment in Magistrates Court on Friday. He was sentenced to 26 months in jail.
Andrew Blackwood, of Kingston, Jamaica, standing before Magistrate Andrew Forbes, admitted possession of dangerous drugs with intent to supply, importation of dangerous drugs, conspiracy to import dangerous drugs and conspiracy to possess dangerous drugs with intent to supply.
On Wednesday, a US Customs and Border Protection (CBP) aircraft spotted the speeding boat without lights and raised the alert.
The Drug Enforcement Unit, assisted by officers from the Police Marine Support Services Unit, acted on the tip to intercept a 35-foot go-fast vessel in waters off Kemps Bay, South Andros, around 12.50am.
A subsequent search of the vessel revealed a large quantity of marijuana.
The US Coast Guard reported that 5,050lbs of marijuana had been seized, with an estimated wholesale value of $4.6m.
Blackwood, represented by Wayne Munroe, QC, Tonique Lewis, Tai Pinder and Jomo Campbell, accepted the prosecution's contention that he had met up with a woman in Jamaica who promised him good opportunities in The Bahamas.
The promise, he said when interviewed in police custody, prompted him to board a go-fast boat with other individuals that left Jamaica. Blackwood also told police that he knew immediately that drugs were on board the vessel from its aroma but didn't know where he was heading.
Mr Munroe asked the judge to be as lenient as possible on his client who, notwithstanding the quantity of the drugs, owned up to the offences at the first instance.
Munroe added that the 31-year-old taxi driver had no criminal history in The Bahamas or in Jamaica.
Magistrate Forbes, after convicting Blackwood of the charges, sentenced him to 26 months in jail for conspiracy to possess and possession of dangerous drugs with intent to supply.
Blackwood was sentenced to 18 months for conspiracy to import and importation of dangerous drugs. The sentences are to run concurrently from the date of conviction.
As for Blackwood's co- accuseds, Howard Rolle, 46, Omar Penn, 35, Eddie Bannister Jr, 49, James Jones, 34, Nathan Stubbs, 45, and Patrick Knowles, 53, all pleaded not guilty to the charges and will stand trial on November 10.
They were denied bail and remanded to the Department of Correctional Services. They are represented by the same lawyers as Blackwood.