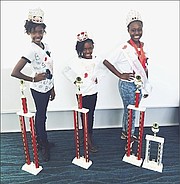 By ALESHA CADET
Tribune Features Reporter
acadet@tribunemedia.net
SHE is only seven years old, but already Jamiah Nabbie is doing her part in representing the Bahamas on the international pageant stage.
For several years now, Lashan Nabbie has been entering both her daughters in local beauty pageants, as she believes they are confidence boosters and provide the girls with beneficial experiences.
The pageant mom was therefore especially thrilled with Jamiah, her youngest daughter, winning the Worlds's Our Little Miss Pageant held in Minnesota earlier this month.
Jamiah won the overall title, but her family had even more reason to celebrate – Jamiah's older sister, 11-year-old Jaliah, won the pageant's sweepstakes in her age division.
Their fellow Bahamian contestant Shavantae Bastian placed in the top 10 in the sweepstakes segment of the international pageant.
The young ladies travelled to Minnesota as a part of the local pageant franchise Little Miss Bahamas, headed by pageant veteran and director Gaynell Rolle.
"Her sister Jaliah has really been doing this since she was at the age of seven, she is now 11 years old," said Mrs Nabbie. "Her aunt actually signed her up. Going in year after year, Jaliah won Little Miss Bahamas in 2011. Participants have the opportunity to compete abroad and not just be a queen locally, so that is how Jamiah got involved. She entered last year as well, making the top 10, but this year she conquered the winning title in Minnesota."
Mrs Nabbie said once a contestant is a former participant in the Our Little Miss system, they have an opportunity to enter year after year to better themselves.
"What I like about it is, it's almost like a family event; Christian-based and centered, and no glitz and glamour," the pageant mother said.
"I noticed it also helped the girls in their studies and personalities. Jaliah was shy and now she is winning most outstanding speaker with her class work and class projects."
Hearing Jamiah's name being called as the pageant's overall winner, Mrs Nabbie said, was a shock, as she was not expecting it.
"She walked off with her crown, sash and cash reward. She really did well for the Bahamas and her director; Ms Gaynell is so proud," Mrs Nabbie said.
"No make-up, nothing; (Jamiah) was just being herself."
Gaynell Rolle was been in involved with pageants since 1999, and every year she thinks about quitting, she said, but mothers like Mrs Nabbie and their motivational stories keep her going.
"I have inspired so many others to dream and know that they can host pageants. I know I can't quit because these people inspire me. The Little Miss Bahamas Pageant has been around since 2002 and we have been going off to our international pageant every year religiously since that time," Ms Rolle said. "They have a number of categories and the girls have always done very well in the various categories ranging from ages five to 17. This year, going off to Minnesota, we took these three queens with us and they all did well."
Ms Rolle said the Little Miss Bahamas pageant has grown tremendously and has blossomed to the point where she feels it is now a network for young Bahamian girls to be trained to enter other pageants like Miss World Bahamas and Miss Universe Bahamas.
"We saw a need to do a Little Miss Bahamas pageant back in 2002 because we didn't have a system where our girls would have the necessary training to climb up the ladder, and from then it has been growing and growing. We now have participants coming in from the major Family Islands to compete. Last year we had winners from Grand Bahama, Eleuthera and Abaco that accompanied us to the international pageant," she said.
Ms Rolle said she loves that her contestants get to travel abroad and have the exposure and opportunity to interact with young ladies from all around the world, sometimes from as far as Russia, which she believes is a win in itself.
"These pageants help in developing our little girls' femininity and it gives them a sense of purpose and what it truly means to be a female. It helps in the home and making them role models as well, because we touch on etiquette, social issues and so much more. It helps them to look at things differently in becoming a well-rounded lady. Even if they enter the pageant and they are not chosen as an overall queen or winner, they leave with a self-esteem so high, which is beneficial for their persona and outlook on life," she said.
Right before going on stage for the final time at the Minnesota pageant, Ms Rolle recalls young Jamiah determinedly saying to her, "I am going back with the crown".
'When they called her name as the winner, I said this little girl meant she was going to do it and she worked hard," Ms Rolle said. "The girls got up at 6am and took part in a week of activities."
Mrs Nabbie said her youngest daughter also told her, "Mommy I am going to win". Even if her girls had returned home empty-handed, Mrs Nabbie said she and their father, Jamaal Nabbie, would have been proud parents.
"Out of her cash prize money (Jamiah) bought a bike and she is riding that every day. I asked her what are her plans now that she got her crown, she said she just wants to be an inspiration to other little girls who believe they cannot do it. Her sister was her motivation," Mrs Nabbie said.