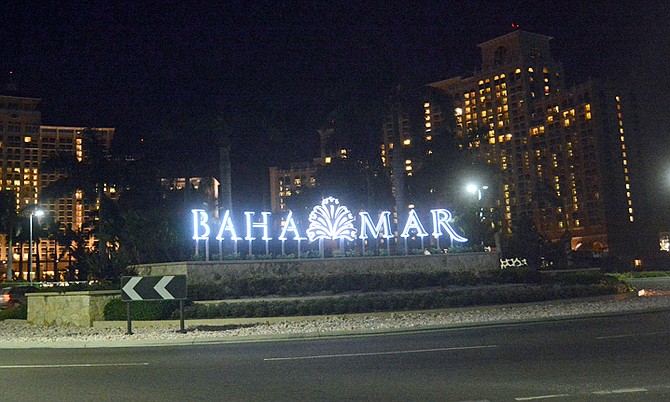 By KHRISNA VIRGIL
Tribune Staff Reporter
kvirgil@tribunemedia.net
A PARTNER at one of the country's leading financial firms yesterday said while Baha Mar's court battle might be "protracted", the Christie administration's "reactionary" response to resort CEO Sarkis Izmirlian's Chapter 11 bankruptcy filing in the US should be seen as a bid to protect this country's interests.
Gowon Bowe, of PricewaterhouseCoopers, moved to clarify what liquidation in The Bahamas could mean for Baha Mar, stressing that in a situation such as this the intent by the government is for the resort to be placed in the hands of an independent entity who is free of emotion and contention.
He said while the Baha Mar development has taken an "unprecedented" direction, it is important to cut through the pandemonium, leaving the emotions out of the equation to reach a resolution.
Last week, Attorney General Allyson Maynard-Gibson filed an involuntary winding up petition against the 14 Bahamian incorporated companies that make up Baha Mar in the Supreme Court.
If the petition is approved, this would effectively pave the way for a court-appointed provisional liquidator to supervise the completion and opening of Baha Mar in the shortest possible time.
"Liquidation in the Bahamas is essentially a stop and sale action saying this entity can no longer pay all of its bills," Mr Bowe said, when contacted for comment.
"But the intent by the government is not to stop and sell but to take it out of the hands of the party with the emotion and the contention and put it into the hands of an independent entity. It is for all parties to set out a restructuring exercise.
"Given that the developer already set in motion a court action, it was important that the Bahamas had carriage of the matter so it was wise and prudent that the government take the necessary steps, although reactionary, to ensure its interests are met."
Mr Bowe, also the Bahamas Chamber of Commerce and Employers Confederation's (BCCEC) chairman, said there were several lessons to be learned from the Baha Mar impasse.
"We have to consider how we update our laws more from a procedural perspective.
"Also, there has to be a closer look at understanding the financial implications in the investment opportunities presented to us. There is also much to be considered in how we go about leasing or selling prime property. In other parts of the world extended leases are often the route taken. So the land policy needs to be looked at. We must be sensitive to how we layout these laws," Mr Bowe said.
Supreme Court Justice Ian Winder is expected to give his decision today on Baha Mar's application to have its bankruptcy filing in the US recognised in this jurisdiction.