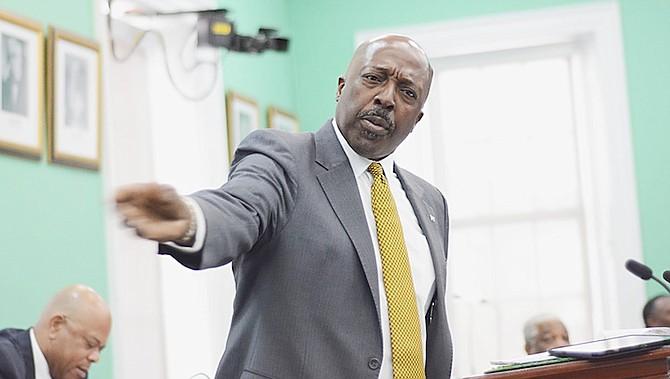 By AVA TURNQUEST
Tribune Chief Reporter
aturnquest@tribunemedia.net
LABOUR Minister Shane Gibson yesterday cautioned "unscrupulous" employers not to undermine the new national minimum wage of $210 that will come into effect next month for the private sector.
Mr Gibson explained that the increase will become effective August 15, once the resolution tabled yesterday is passed in both the Upper and Lower Houses of Parliament.
He again rejected claims that the wage increase would lead to higher levels of unemployment, pointing out that similar moves have had a positive affect on economic growth in the region and North America due to the increased consumer spending.
"I wish to caution those unscrupulous employers that would try to undermine this increase and deliberately and intentionally withhold the additional wage from hard working Bahamians, that the Inspectorate Unit of the Department of Labour has been instructed to implement a comprehensive inspection plan to ensure that there is compliance, and it will aggressively pursue violators and prosecute them to the full extent of the law," he told the House of Assembly.
Mr Gibson announced the 40 per cent wage hike on the recommendation of the National Tripartite Council last month, indicating that the decision followed months of research and negotiations.
The initial minimum wage was enacted in 2002 at $150 per week, or $4 per hour, for the private sector, under a previous Ingraham administration.
The increase to $210 per week or $5.25 per hour is considerably lower than the 100 per cent to 133 per cent increase recommended by Obie Ferguson, president of the Trade Union Congress (TUC), and John Pinder, president of the Bahamas Public Services Union (BPSU).
Both men recommended to the government that a minimum wage increase of between $300 and $350 be made.
The new increase will bring private sector minimum wage in line with the minimum wage of the public sector, which is currently $210.
Mr Gibson explained that the increase took into consideration advice from local stakeholders as well as advice from the International Labour Organisation (ILO) and International Organisation of Employers (IEO), the Inter-American Bank and CARICOM state officials.
He said yesterday: "It is envisioned that the council will monitor the cost of living and the retail price index, and it is prepared to recommend additional increases to ensure that weekly wage of Bahamian workers is able to keep pace with any increase in these index."
He added: "Our research has confirmed that despite the false rumours that an increase in the minimum wage will lead to higher levels of unemployment, this notion should be rejected.
"In fact," he said, "in the Caribbean, Latin America, and the United States, the increase in minimum wage has had a positive effect on the growth of the economy, as persons would very quickly utilise any wage increase by purchasing goods and services thus increasing economic activity."