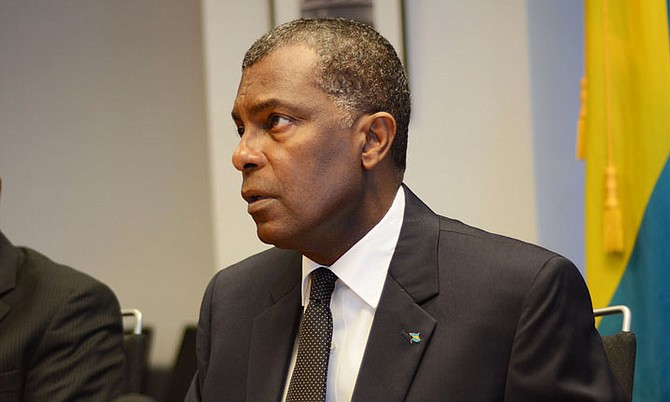 By RICARDO WELLS
Tribune Staff Reporter
rwells@tribunemedia.net
FOREIGN Affairs Minister Fred Mitchell yesterday dispelled notions that government's handling of the Baha Mar bankruptcy ordeal would "scare off" potential foreign investors.
Mr Mitchell accused persons opposing the government over the matter of "mischaracterising it out of spirited wickedness."
According to the Fox Hill MP, the government to date has treated the Baha Mar matter as "a straight out commercial transaction."
"If you, in your home mortgage, say, owe Scotia Bank or FINCO or Royal Bank of Canada and you default on the loan, the bank will foreclose," Mr Mitchell said on the sidelines of a Rotary Club of Nassau meeting.
"Either you pay or the bank forecloses. So there is no different thing here. In every Bahamian mortgage, there is standard provisions which allow for the bank to enforce its security and that, I believe is all that is contemplated."
He added that it made little sense for local creditors to depend on foreign courts and laws to protect their interests.
He insisted: "It is Bahamian debts, Bahamian property so it should be adjudicated here in the Bahamas.
"Winding-up actions are available in our company law, where companies are unable to pay their debts."
Both the Democratic National Alliance and the Free National Movement have, in recent weeks, questioned the government's motives and actions in regard to Baha Mar.
During his national address on the $3.5bn mega resort, FNM Leader Hubert Minnis said the opening of the resort was a "matter of utmost national importance" to the country.
At the time, Dr Minnis said while he respected the government's decision file a winding up petition against Baha Mar in the Supreme Court, he required more details on the ramifications of the liquidation process.
On Tuesday, FNM Chairman Michael Pintard labelled the government "contradictory" for saying it was again willing to observe talks between Baha Mar and its Chinese partners.
He went on to suggest that the government's move to liquidate Baha Mar would have consequences in the international community.
However, Mr Mitchell brushed off those suggestions, stating: "We have a job to do."
"With our young people – to get them to understand how this is in their larger and better interest and I am talking in particular about the workforce.
"I think we need to have a detailed conversation with them about why this is in their best interest and how the government is working assiduously to make sure the resort can open, that it can open as quickly as possible and that people can start making money and income to feed their families.
"That is the only interest any government has," he said.
Mr Mitchell has been pulled into the Baha Mar spotlight with recent comments made by him about Baha Mar developer and CEO Sarkis Izmirlian.
During an Independence Day speech in Exuma, Mr Mitchell hit out at the developer, who has permanent residence in the Bahamas.
He suggested that if Mr Izmirlian had criticised the government in the Pindling era, he would have been booted out of the country by the respective minister of immigration.
However, he added, times have changed since then.
Meanwhile, Supreme Court Justice Ian Winder on Wednesday denied Baha Mar's application to recognise its bankruptcy filing in a US court.
The ruling allows for the government to move forward with its winding-up petition against the Cable Beach resort.