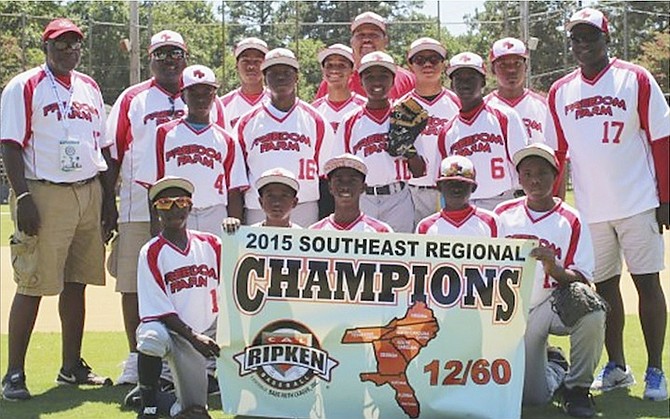 By RENALDO DORSETT
Sports Reporter
rdorsett@tribunemedia.net
After a dominant performance last week on the road against international competition, Freedom Farm is headed to the 2015 Cal Ripken Major/60 World Series.
Freedom Farm capped an undefeated performance at the 2015 Southeast Regional 12 and Under Major/60 tournament with a 12-1 win over Kinston, North Carolina. They won by virtue of a walk-off home run to win via the 10-run mercy rule through four innings.
Freedom Farm's path to the title included a 5-1 victory over New Kent, Virginia, 12-2 over Winter Park, North Carolina and 10-3 in the first matchup over Kinston.
The team now advances to the Cal Ripken Major/60 World Series hosted in Monticello, Arkansas, August 7-14. They look to repeat history following the triumph of the 2010 team when the Freedom Farm side won the Southeast Regional Championship and went on to win the Ripken Major/60 title.
The Farmers are one of eight regional champions that are headed to the national tournament.
The Cal Ripken Major/60 World Series is among the seven national championship baseball tournaments that's part of the Babe Ruth League. Included is the popular Cal Ripken Major/70 division that pits teams within the United States as well as international teams that are also 12-and-under.
The finale will be divided into two four-team pools, and seeded following a round-robin.
The group stage is followed by single elimination playoffs.
The Babe Ruth League is an international youth baseball and softball league based in Trenton, New Jersey.
It was organised in 1951 as a baseball programme for boys aged 13 to 15.
By 2010, Babe Ruth League, Inc. had more than one million players on 56,000 teams in 9,000 leagues in six countries and all 50 US states.