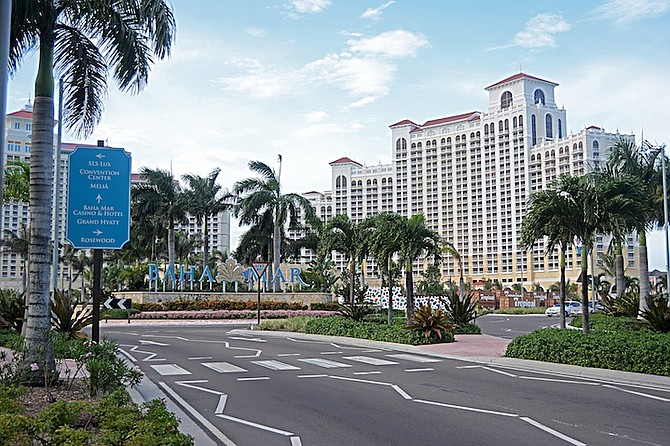 By KHRISNA VIRGIL
Tribune Staff Reporter
kvirgil@tribunemedia.net
THE success or failure of the Baha Mar resort will determine Prime Minister Perry Christie's legacy, Free National Movement deputy leader Peter Turnquest said yesterday as he insisted that the nation's chief ought to be more involved with the negotiations.
Following Baha Mar developer Sarkis Izmirilian's Chapter 11 Bankruptcy filing in an American court last month, Attorney General Allyson Maynard Gibson has on two occasions led the Bahamian delegation to Beijing, China, to put the government's position.
Before the first visit, Mr Christie said that he would not attend the meetings because there was insufficient time to satisfy the People's Republic of China's protocol requirements for receiving Heads of State.
Mrs Maynard-Gibson returned to Beijing this weekend. This has left Mr Christie open to criticisms from those who insist he has removed himself from the situation. 
Mr Turnquest said: "It is an interesting development that he now wants to take a back seat. He has decided that he will make this his legacy and as such the success or failure of the negotiations rests with him and his government. So he ought to be intimately involved.
"At this point I believe that negotiations have reached that point where some final decisions need to be made and only he and his Cabinet make those decisions. So I think it was an interesting development that he sent the Attorney General to China.
"I believe it is now time for the Prime Minister to be upfront in this and putting forward the position of the Bahamas in respect to what is our final position as to how it will go forward."
Mr Turnquest further questioned the reasoning for the government's second visit to China, saying it was a waste of time and money.
"Before they left they knew that the basic issue was that the Export Import Bank of China needed a guarantee from Mr Izmirilian. If they did not have that then why go back to China to do the same thing over again? I think it again shows a lack of commitment (and) a lack of thought in this whole process.
"From where I stand there are only two solutions here. One, they are going to wind up and go into receivership and hopefully a qualified receiver will be able to somehow secure the funding to complete this project in a timely manner which is not an easy thing to do. 
Because, if you think about it, if the China EXIM bank is requiring a guarantee from Mr Izmirilian then wouldn't they expect the same guarantee from a receiver or whomever is going to step in to takeover? Why would they all of a sudden free up on this money?" Mr Turnquest asked.
Ha said all parties involved will need to make compromises as there are mutual interests at stake.