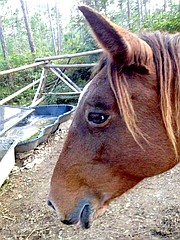 THE LAST of the wild horses on Great Abaco has died, prompting caretakers to collect tissue for possible cloning and hopefully bring back a viable population.
Milanne 'Mimi' Rehor, project director for the Wild Horses of Abaco Preservation Society, said this week that a US veterinarian removed tissue from the dead mare and the material shipped to ViaGen, an animal cloning technology company in Austin, Texas.
"We are sad at the loss. But we are also optimistic because we do have a crack at bringing the herd back," said Ms Rehor, a 71-year-old New York native who has spent over two decades trying to preserve the wild horses on the island in the northern Bahamas.
Some 60 years ago, as many as 200 wild horses grazed and trotted freely through the scrubland and forests of Great Abaco, which was once logged for its pine trees. The horses were imported from Cuba in the late 1800s by a logging company. When the company switched to tractors for pulling logs in the 1940s, the animals were set free and went feral.
The wild horses flourished for a time but, when a young child died while trying to ride one of the horses after it had been tamed, townspeople killed all but three of the herd in the early 1960s, according to Ms Rehor's organisation.
The herd rebounded to about 35 animals by the mid-1990s with the help of Ms Rehor and other enthusiasts, who secured a preserve for the horses in Treasure Cay. But the remaining horses were sickened by poisonous plants, pesticides and herbicides and were unable to reproduce. The last one, a roughly 20-year-old mare called Nunki, died last week.
A post on the Save the Wild horses of Abaco Facebook page read: "It is with the heaviest of hearts that we have to tell you, our faithful fans and followers, of Nunki's passing on July 23rd. Nunki was over 20 years old, which is quite remarkable for her. She passed peacefully and painlessly in the loving arms of her caretaker and friend of over 20 years Milanne Rehor (Mimi) and with friends Avener and Dr Bailey at her side. Her over-stressed liver finally gave up."
Rehor, who lives on a boat moored in Abaco, said she lost a "wonderful companion". She hopes Nunki's cells can be reproduced and one day a foal can be bred with DNA from a living stallion.
Ernest Cothran, a clinical professor at Texas A&M University's Department of Veterinary Medicine and Biomedical Sciences who has studied Abaco's wild horses, said he would be surprised if the cloning plan succeeds. "I would not say it is impossible, however," he said.
The Preservation Society believes the bloodlines are worth saving due to their unique historical significance. According to their Facebook page, "Wild Horses of Abaco's primary objective is the prevention of the extinction of the Abaco Wild Horses, now to be known as the Abaco Spanish Colonials. DNA proven to be direct descendants of the horses brought to the New World by the Spanish Conquistadores."