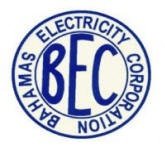 By RICARDO WELLS
Tribune Staff Reporter
rwells@tribunemedia.net
ONE WEEK after signing a transitional services agreement with PowerSecure, Deputy Prime Minister Philip "Brave" Davis said he is hopeful that the new board of directors for the Bahamas Electrical Corporation would be named next week.
According to Mr Davis the $900,000 agreement signed last week between the American company and the government only signalled the start of PowerSecure's data collection process.
A process he had previously said could take up to six
months.
"Their technical team is still here in the Bahamas," he said.
Mr Davis added: "They are gathering data for the purposes of putting together the business plan that will form the basis of the management contrac t."
"That is an ongoing exercise, they are here now, I think we have another high level meeting early next week.
Of that "high level" meeting Mr Davis said it was his hope to name the new board at that time.
In addition to that he said: "We will touch some of the fundamentals on what we will like to see in the business plan and we will hopefully have that completed next week.
PowerSecure specialises in utility-scale solar power through its subsidiary PowerSecure Solar and has provided both solar and storm hardening services to multiple utility customers.
In the past Mr Davis has praised the company's ability to manage the building of new, major power generation plants in New Providence.
PowerSecure was selected as the management partner for BEC in May.