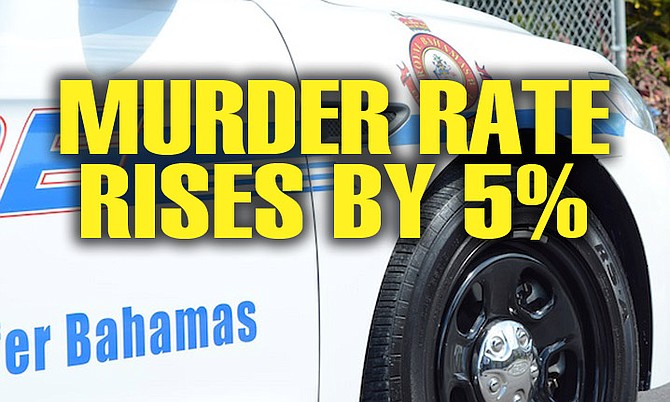 By NICO SCAVELLA
Tribune Staff Reporter
nscavella@tribunemedia.net
MURDERS are up five per cent compared to the same time last year, an analysis into the country's homicide figures for the first five months of 2015 has revealed.
The Tribune's analysis into last year's police crime statistics found that at the end of May 2014, the country recorded 60 murders. This year's count stands at 63, the most recent a fatal shooting in Yellow Elder Gardens on Friday night.
According to police, the latest murder happened shortly after 9pm when the victim was walking in a park off Graham Drive, in Yellow Elder Gardens. A man armed with a handgun approached and shot him multiple times before fleeing. The victim was pronounced dead at the scene. His identity has not been released.
He was one of five people murdered in separate incidents last week.
FNM Leader Dr Hubert Minnis, when contacted by The Tribune yesterday, said the government is "missing the point" on crime. He said the government should put emphasis on reducing the youth unemployment rate, which he said would cut down the number of "angry" young people engaging in criminal activity.
Dr Minnis said yesterday: "The prime minister said if it requires him putting policemen on every street corner he would do it. But he's missing the point. Crime is rising, murder is rising, and unemployment is rising. The unemployment rate in the young population is astronomical – 31 per cent. Those that are dying are the young people."
He added: "At this point in time, the young people are angry. The young people need jobs; the young people are looking for jobs. The (youth) unemployment rate of 31 per cent is too high. So until they grow the economy and deal with the employment situation then they're out of their depth."
The bloodiest month for the year so far has been February, with 15 murders, according to The Tribune's records, followed by May (14), March and April (12) and January (10).
In contrast, there were only eight homicides in February 2014 but 16 in May and 14 in April raised the total to 60 after five months, according to statistics provided by the Royal Bahamas Police Force last year. June and July were relatively quiet months with four and seven murders respectively.
Last week, Prime Minister Perry Christie said during his budget communication that the government has invested a "significant" amount of money in the Royal Bahamas Police Force to help it obtain additional power and resources to enhance its presence and visibility around New Providence.
Stressing that crime remains one of the greatest issues facing the country, Mr Christie said: "…Investments in police equipment, in the form of cars, surveillance and protection equipment, are highlighted in this year's capital budget."
Ultimately though, in reflecting on the steps that must be taken to curb crime, Mr Christie said last week that the solution must be holistic, not "piecemeal."
One of last week's victims, 31-year-old Merit Forbes, was remembered by friends who covered the blood-stained area where he was killed in Pinewood Gardens on Thursday evening with sand and placed a flower on top. Some, on social media, said Forbes – who was charged with murder in 2011 – was trying to turn his life around. He was out on bail when he was killed.  
Police Chief Superintendent Paul Rolle said Forbes was repairing a vehicle in his neighbourhood when he was ambushed by men shortly after 6pm. The men pulled up in what is believed to be a dark coloured truck or jeep.
One man got out of the car and discharged shots in the victim's direction, prompting him to attempt to flee. Then, another man got out of the vehicle and discharged several more shots, fatally wounding him. Forbes died at the Princess Margaret Hospital. Police have launched an island-wide manhunt for the suspects, although, according to Police Assistant Commissioner Stephen Dean, they are not yet following any significant leads.
Georgette Rahming, 21, was shot dead on Tuesday night at her home on Palmetto Avenue, off Baillou Hill Road, and on Tuesday morning, 41-year old Trevor Smith, of Catnip Close, Fox Hill, was shot and killed on his way to work during an armed robbery off Soldier Road.