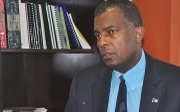 By SANCHESKA BROWN
Tribune Staff Reporter
sbrown@tribunemedia.net
THE demand for passports has tripled this year compared to 2014, forcing the collection time to increase from eight weeks to 12 weeks, according to Foreign Affairs and Immigration Minister Fred Mitchell.
During his contribution to the budget debate in the House of Assembly yesterday, Mr Mitchell said the impending discontinuance of hand written passports this year coupled with the "summer rush" has caused extremely long delays at the Passport Office.
He said the Ministry of Foreign Affairs hopes to acquire extra help in the coming days to ease some of the burden.
"The Passport Office continues to face challenges and unfortunately the average time for passports is 12 weeks and not eight weeks (as) previously announced," Mr Mitchell said.
"We are in the process of seeking additional resources and to see whether or not this issue can be solved. You will note that people will have to rid themselves of handwritten passports by the end of the year, this together with the summer rush has caused spike in the number of applications," he said. "I was at the Passport Office earlier this week and I was advised that the average appointment last year was 100 per day, but now they are seeing more than 300 per day and they simply cannot keep up with the demand. We are speaking with public agencies (to) get emergency support in terms of personnel, (and) work out these issues."
Mr Mitchell has previously said that all Bahamian passport holders will have to have an e-passport by the end of this year.
Mr Mitchell also announced that the Ministry of Foreign Affairs is seeking a $3 million increase for allowances for Foreign Service workers.
The ministry was allocated $26,184,994 during the last budget cycle and Mr Mitchell is requesting $29,623,118.
"It is necessary because foreign service officers, their allowances have not changed (for) over a decade and it is far short (of) what is necessary to allow them to live at a level in these offices overseas consistent with a acceptable standard," Mr Mitchell said.