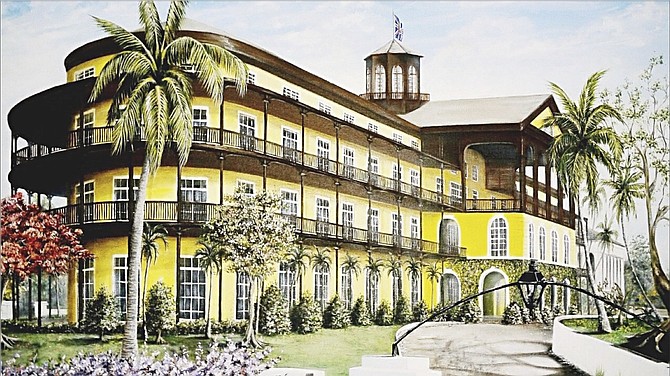 ALLAN Pratt, known as one of the best pastry chefs in the Bahamas, reveals another side of his talents this week with the opening of a solo art exhibition at the Doongalik Studios Art Gallery, Village Road.
Born in New Providence and a self-taught artist, Mr Pratt studied the works of well-known Bahamian artists such as Eddie Minnis, Brent Malone and Chan Pratt from an early age.
But after achieving a special credit in his GCE 'A' Level Art at high school, he chose to pursue a career as a pastry chef. However, he has never lost his love for art.
He will open his solo art exhibition "His-story", which will feature paintings of well-known historic buildings and street scenes as well as charcoal drawings depicting "the family", on Wednesday at 6pm.
The title of the show and the artworks have been chosen to remind Bahamians, as a nation, from "whence we came", according to the Doongalik. "Allan's desire through his art is to encourage us to return to those more peaceful times when we were 'our brother's keeper' so that we might heal as a nation in light of the crime situation in our country today."
Mr Pratt works predominantly with oil paint, which allows him to blend and mesh colours to achieve his desired results, but recently, clients have been requesting charcoal portrait drawings and paintings. His art can be found in the private collections of several prominent Bahamian collectors and also private clients in Orlando and Fort Lauderdale.
His goal as an artist is for those who acquire a piece of his artwork to have their own original piece of "Bahamian History" so he does not make prints, duplicates or giclee reproductions. Each piece also has its own certificate of authenticity signed by the artist.
During this time, he displayed his God-given artistic talents in his Ice and Fruit Carvings and also in his Chocolate, Bread and Pastillage show pieces. Although he has propelled himself to become one of the country's best Pastry Chefs, he has never lost his unwavering love for art.
"His-story" will be on display from June 10 to July 4 at the Doongalik Studios Art Gallery, Village Road. Gallery hours are Monday to Wednesday,10am to 4pm.