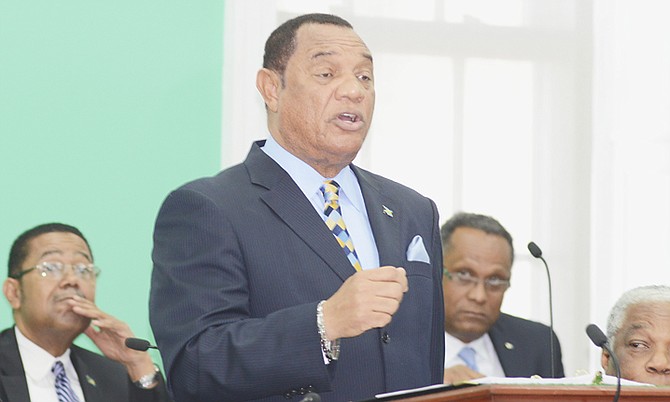 By RICARDO WELLS
Tribune Staff Reporter
rwells@tribunemedia.net
AMIDST the recent scourge of homicides, Prime Minister Perry Christie said he is being "subjected to walking on eggshells" despite his claims of wanting "the madness on our streets to end".
Mr Christie was speaking at the fifth annual United States-Caribbean High-Level Citizen Security Dialogue (HLCSD) last Thursday at Atlantis. He stressed that on an island "seven miles wide and 21 miles long" logic dictates that he commits all the necessary resources needed by law enforcement authorities to best protect society.
Those comments followed a Tribune report that revealed that murders in the first five months of 2015 in the Bahamas were up five per cent compared to crime statistics from January 1 to May 31 last year – 63 as against 60.
"I am convinced, I have to be convinced that there is a great deal more that we can or should be doing to fight this common menace," Mr Christie said. The Centreville MP admitted that he is "challenged" by the establishment that he has inherited as Prime Minister and as the Chairman of CARICOM, the group of 14 regional countries.
"Philosophically my terms of reference as an elected representative is to solve the problem," Mr Christie said. "The eggshells is a reference to the division that exist between the military establishment and the police establishment. And to the Bahamian people, to the people of the region; they would like to understand the extent to which governments appear paralysed in the face of this continuing slaughter of our future."
Shortly after 10pm on June 1, 36-year-old Vance Franky Fenelus, of Apple Street, was shot multiple times a short distance from the home he shared with his wife and two young sons. Police said the victim was sitting on a wall with several men in front of a home on Peach Street when a man armed with a handgun approached him and shot him several times before fleeing the area on foot.
His wife, 33-year-old Otancia Fenelus, described her husband of little over a year as "loving, friendly, peaceful, family-oriented man, murdered without reason".
Referring to the influx of guns and the crimes subsequently committed with them, Mr Christie said that "what we have captured are the chilling continuation of killings ... The outcome today is important so that it is not just another convocation where ideas are shared, the limitations of what we can do together is pronounced and the killings continue. And that is why I departed from my speech, to tell you how I feel. And to tell you the enormous frustration that bureaucratic inertia produces," he added.
"We don't have the right when it comes to solving the challenges of our country to sit down and talk about traditionally you don't do this and you don't do that," Mr Christie said. "Some talented, gifted individual is being slaughtered. And whilst I have you gathered here this is why the predicate today for me is we can do more and we can do better and we must.
"That's the reality we face, because some Sydney Poitier is being killed everyday, he is one of ours. Some talented, gifted individual is being slaughtered."
Less than two days after the death of Mr Fenelus, two men who knew each other were involved in an argument at a home at Butlers Way off Carmichael Road. According to reports, one shot the other in the chest with a handgun. The victim was rushed to hospital, where he was listed in serious condition.
Prime Minister Christie said government and law enforcement officials "can do more" and "can do better". The CARICOM Chairman warned United States officials at the HLCSD that while they are "directed to affairs in the Middle East", there is enough "trouble and potential" in the Caribbean region to spawn major acts of violence.
"In small countries we don't have the right to when it comes to protecting the people of the country to allow military lines or police lines or professional lines to divide us or prevent us from spontaneously and pragmatically shifting to the priority; stop the madnesses," he said.
The HLCSD by design strengthens the United States' citizen security partnership with Caribbean nations as it defines current and emerging threats to citizens and communities within the region.
Before the 2012 general election the Christie administration campaigned on the promise that it had the required solutions to end the scourge of crime plaguing the country. However, in each of the administration's three years in office, there has been a rise in murders compared to previous year.
During his budget communication the Prime Minister said the government planned to invest a "significant" amount of money in the Royal Bahamas Police Force in an effort to boost its presence and visibility around New Providence. He stressed that crime remained one of the greatest issues facing the country. "Investments in police equipment, in the form of cars, surveillance and protection equipment, are highlighted in this year's capital budget," he said.