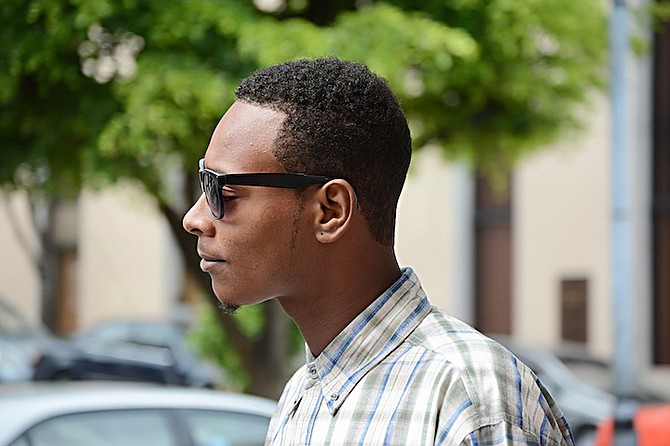 By LAMECH JOHNSON
Tribune Staff Reporter
ljohnson@tribunemedia.net
THE Court of Appeal yesterday expressed surprise that a teen convict at the centre of judicial interference allegations against a Cabinet minister had been released from custody without either bail or serving his sentence.
The shock over the matter was expressed during a Court of Appeal hearing yesterday, when the teen's attorney withdrew his appeal against his sentence after realising that the matter had to be addressed in another court first.
Jaquan Charlton, 19, and his lawyer Christina Galanos appeared in the Court of Appeal for the expected hearing into his conviction on resisting arrest and the assault of a police officer.
However, Ms Galanos informed Justices Neville Adderley, Jon Isaacs and Stella Crane-Scott that, after having discussions with Director of Public Prosecutions Garvin Gaskin, "at this stage I am considering abandoning (the) appeal."
"You're seeking leave of the court to withdraw the appeal?" Justice Adderley asked.
"Yes," said Ms Galanos.
Mr Gaskin said that his submission was on a "purely jurisdictional standpoint."
"The court doesn't have the jurisdiction to hear the matter," the Crown respondent said, relying on Section 234(C) of the Criminal Procedure Code.
The law states: "Appeals from Magistrates Courts, filed under this part of this code after the coming into operation of this section shall lie in all other cases to the chief magistrate, a deputy chief magistrate, a senior stipendiary and circuit magistrate, a stipendiary and circuit magistrate or a circuit justice on circuit."
Charlton, on March 19, was released from custody hours after being convicted and sentenced by Mayaguana Administrator Zephaniah Newbold who claimed he released the teenager after a telephone call from MICAL MP V Alfred Gray. Mr Gray, although admitting the telephone call, denied that he gave orders for a release. However, Mr Newbold said he released Charlton because he felt "threatened" by Mr Gray.
In his defence, Mr Gray has said that he contacted Administrator Newbold only to offer "legal advice" but denied that he attempted to sway the course of justice, saying he only advised the administrator that he had the option of granting bail.
However, Mr Newbold has said he released the teen outright. He gave no bail.
In yesterday's hearing, Justice Adderley surmised from the respondent's argument that the matter should have gone to the chief magistrate before coming to the appellate court. Mr Gaskin said this was the case.
"That being the case, we grant leave to the appellant to withdraw the appeal," Justice Adderley ruled.
After a brief consultation with Justice Isaacs, Justice Adderley asked Charlton if he was on bail.
"M'lord he was let go," Ms Galanos said on her client's behalf.
"How is it possible that he was released? He was convicted and sentenced to three months imprisonment? Can you explain that to us?" Justice Adderley probed.
Ms Galanos said that those details were laid out in Charlton's affidavit.
Mr Gaskin said that Charlton was "in no man's land."
He added: "He has to either be properly remanded or to be released on bail. He was not released pursuant to the Bail Act or the CPC (Criminal Procedure Code)."
Justice Adderley noted that both sides would have to deal with the matter before the chief magistrate.
"You're free to go for the time being," Justice Adderley said to Charlton.