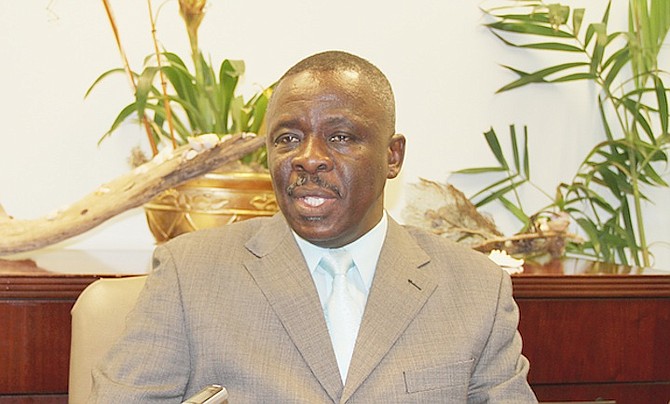 By NICO SCAVELLA
Tribune Staff Reporter
nscavella@tribunemedia.net
THE recent wave of high school brawls were the result of "poorly socialised" high school students, Education Director Lionel Sands said yesterday, adding that there is "very little" the Ministry of Education can do to prevent such incidences from occurring in the future.
Speaking to The Tribune after documented fights in several government high schools, most notably C V Bethel Senior High, Mr Sands called the brawls a "vexing" issue for the ministry and high school educators. He said it was "difficult to get to the root" of the cause of the fights, as he said most, if not all, of the fights took place after school hours.
However, he stressed that the fights are not incidents that are "perpetuated" by the respective schools. On Wednesday, four teenage girls from C V Bethel were taken into police custody for participating in a brawl that sent two other students, both girls, to the Princess Margaret Hospital.
The girls, aged 14 to 16, were arrested during a fight that involved dozens of female students from C V Bethel. Two teenagers were subsequently taken to hospital for treatment and one girl had a portion of her ear bitten off during the fight, according to officer-in-charge of the East Street South Police Station, Superintendent Craig Stubbs. That fight was one of three government high school fights that were recorded and circulated widely on social media earlier this week.
"It's very little you can do about that, because the incidences that happened actually for the most part happened after school away from the school, so there's very little that can be done," Mr Sands told The Tribune. "For the most part our kids are not socialised. They are poorly socialised, and that has to happen in the first instance in the home where they become socialised, and understand that they have a responsibility to themselves and a responsibility to everybody else, so that they would act in a certain way.
"But that is taught at home first. And once it is taught at home it is supplemented by what is taught at school. We don't have that unfortunately, where kids are being socialised at home in the first instance. And so the job of teaching becomes more and more difficult, because in order for the job to be effective, the kids must come to the classroom in the first instance socialised."
In the two-minute video, dozens of teenage girls still dressed in their C V Bethel uniforms, could be seen attacking each other in the middle of East Street South, directly in front of the police station. At one point, officers attempted to stop the fight, but the girls overpowered them. Students were also seen throwing blue paint in the middle of the road, bringing traffic to a standstill.
In another video, dozens of female students from the C R Walker Senior High School were recorded while fighting on Blue Hill Road north near the St Agnes Anglican Church. At first, it appeared to be dozens of female students fighting indiscriminately. However, it developed into a situation that saw three female students ganging up on a lone female student. It then shifted to a one-on-one fight after another female student began striking the lone female student fiercely with a large piece of wood.
The fight concluded in front of Sweeting's Colonial Mortuary Crematorium, where male C R Walker students, along with an adult female, helped to quell the situation.
Two other videos circulating showed students brawling at Anatol Rodgers High School and at Eight Mile Rock High School in Grand Bahama.
All this, notwithstanding the shooting of a security guard - multiple times - by a gunman dressed in a school uniform at L W Young Junior High School on Bernard Road around midday on Tuesday.
Officer-in-charge of the Central Detective Unit Chief Superintendent Paul Rolle said while the gunman appeared to be dressed in a C I Gibson school uniform, police could not confirm if he was actually a student. On Friday, however, police arrested a 17-year-old boy in connection with the shooting.
"It's a vexing problem for the schools and also for the community," Mr Sands said. "For the country it's a vexing problem. We can't continue to have those things happening because we are destroying ourselves in doing that. It is disturbing, yes, but it is not something that is perpetuated by the school, that's the bottom line. But they happen. You're disturbed by it, you do your best to ensure that they don't happen, particularly while the kids are at school.
"But once the kids leave the confines of the school there is very little the principal or the ministry can do because we have control of those children between the hours of nine to three when they come into our gates and when they leave the gate. So it's a challenge we are having."
Mr Sands added that Education Minister Jerome Fitzgerald is also bothered by the recent brawls. "He is disappointed, as we all are," Mr Sands said. "We're disappointed that the kids do the things that they do, because it makes it seem as if what we are doing in the school is not sufficient, but it's not really that.
"If the kids were confined to us 24 hours a day when they should be at home, that's a different thing. But they come to us and they leave us. So what happens between us and where they come from, we don't know. We do know that our community needs help, help from all around. So the school alone isn't going to cut it."