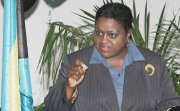 By AVA TURNQUEST
Tribune Chief Reporter
aturnquest@tribunemedia.net
OUTSPOKEN youth activist Tavarrie Smith yesterday accused Minister of Social Services Melanie Griffin of dereliction of duty in light of the 22 per cent increase in child abuse cases.
Mr Smith, a juvenile defence lawyer, called for the release of more detailed statistics that would assist the creation of evidence-based intervention and treatment programmes.
He also questioned whether or not the stalled enactment of the amendments to the Child Protection Act, better known as Marco's Law, could have had an impact on last year's figures.
"I'm extremely concerned about the statistics," he said, "it's such a significant increase. What is also challenging in all of this is we don't know which cases are reoccurring. We have no context for the cases being reported, further to that is we don't know anything about what happened to the cases from last year."
He said: "There was no information on how many cases led to arrests or prosecutions, how many children placed in the foster care system. We don't know if these are from parents, guardians, persons in the community.
"We don't know whether these cases of abuse are from persons who would have been on a sexual registry list, maybe with that knowledge parents or guardians would have been more discerning about the people they allow to interact with their children."
In 2014, there were 597 reported cases of child abuse, according to statistics released by Mrs Griffin during her 2015/2016 budget contribution earlier this week.
Of that total, there were 243 cases of neglect, 173 physical abuse cases, 121 reports of sexual abuse, 37 cases of incest, nine cases of verbal abuse, eight abandonment cases and six emotional abuse cases.
In 2013, there were 257 cases of neglect, 113 cases of physical abuse, 95 cases of sexual abuse, six cases of incest, five cases of verbal abuse, two cases of abandonment, and nine cases of emotional abuse.
Mr Smith said the results were particularly alarming because he has noticed a correlation between juvenile offenders and child abuse. In the court system, he said a number of youth offenders were former victims of child abuse that never received treatment.
Mr Smith pointed to the disjointed system for child abuse victims, whom he said were forced to recount their horrors repeatedly during assessment at various agencies. He called for the establishment of a national child advocacy centre that would streamline support services.
"The minister is derelict in her duties," he said. "I'm really concerned about that the number is so significant.
"We can't ignore it a 22 per cent increase, it cries for attention. It is not enough to release statistics without any followup. What is coming? We don't even know if these are cases from New Providence or what percentage is from the Family Islands.
Mr Smith added: "Give us more data so those of us out in the field working, we know how to respond, and where our resources need to go. We don't know what that means or how to respond as a society other than being alarmed."