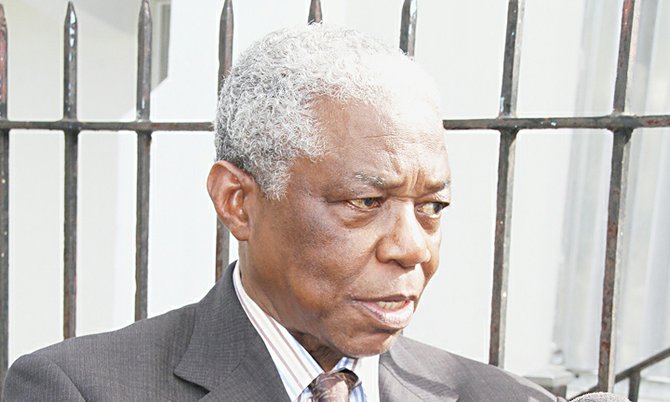 By NICO SCAVELLA
Tribune Staff Reporter
nscavella@tribunemedia.net
DESPITE the nation's leader previously stating that the proposed constitutional referendum on gender equality may take place this month, National Security Minister Dr Bernard Nottage yesterday refused to answer when asked for an update on the proposed referendum's timeline.
Earlier this year, Prime Minister Perry Christie indicated that he did not want to delay the referendum any further and hoped to hold it by June. When questioned by The Tribune yesterday, however, Dr Nottage, the minister responsible for elections and referenda, would not provide so much as a tentative date for the referendum.
When questioned yesterday for an update, Dr Nottage told The Tribune: "I am not speaking about the referendum at this time."
Dr Nottage's reluctance to speak on the matter came a day after Constitutional Commission Chairman Sean McWeeney said the committee is "just about finished" with its public education campaign.
Mr McWeeney said there is "next to nothing" remaining on the commission's calendar, indicating on Sunday that the group had "almost" finished its Family Island consultations, visiting every island with return visits scheduled for a few settlements.
The referendum, which has been delayed several times since 2013, was first expected in June of that year to coincide with the 40th anniversary of independence. It was then delayed to November 2013, but it was later said the vote would happen by the end of June 2014.
Last summer, Mr Christie announced it would take place on November 6, 2014, and the relevant bills were tabled in the House of Assembly. However, after significant push back – even from some Progressive Liberal Party MPs – over the wording of some of the bills, the government again delayed the vote.

There is concern in some quarters that Bill Four in particular, which seeks to end discrimination based on sex, could pave the way for gay marriage. The government has repeatedly said this concern is unwarranted.
Nonetheless, the repeated delays in the referendum have led many to question the government's commitment to gender equality.
Long Island MP Loretta Butler-Turner has said that with every passing day, it becomes more uncertain if the referendum will ever take place.
"This delay has little to do with the questions and everything to do with the rushed and botched process," Mrs Butler-Turner said in an earlier interview.
"The government destroyed this matter with the way they went about it. The PLP forced aspects of this referendum on the public without clarification or explanation."