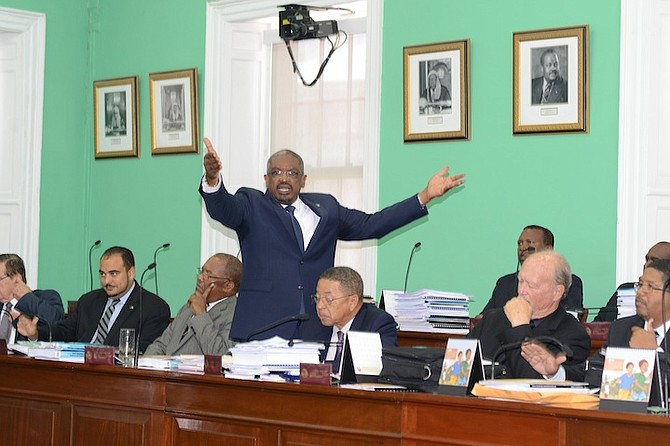 By KHRISNA VIRGIL
Tribune Staff Reporter
kvirgil@tribunemedia.net
FNM Leader Dr Hubert Minnis yesterday castigated Prime Minister Perry Christie, saying he needed to "be a man" and do his job in passing the four bills in the House of Assembly which are needed to advance the referendum to amend the country's Constitution.
During an impassioned contribution to the 2015/2016 budget debate, Dr Minnis painted a grim picture of the state of the country under the leadership of a "mean," "heartless" and "cruel" Christie administration.
In his nearly two-hour long speech, Dr Minnis sought to poke holes in several of the government's initiatives, saying it had failed across the board.
His communication in the House of Assembly prompted several government MPs to stand on points of order to refute the FNM leader's claims.
"Be a man and bring the bills," Dr Minnis said as he touched on the government's failure to advance the gender equality referendum.
"What are you afraid of?" If it were me I would take my licks."
On Sunday, Constitutional Commission Chairman Sean McWeeney said he has not been given any indication of when the proposed referendum on gender equality might be held, despite the committee being "just about finished" with its public education campaign and Family Island consultations.
Earlier this year, Prime Minister Perry Christie had indicated he did not want to delay the vote any further and hoped to hold it by June.
However, up to press time, a firm date for the vote had not been announced.
Regarding value added tax (VAT), Dr Minnis repeated his party's pledge to repeal VAT on breadbasket items. He said despite the government praising a smooth VAT rollout, implementing the tax was disrespectful to poor Bahamians.
"How could this Christie administration be so mean as to put a VAT tax on a loaf of bread, a tin of corned beef and on all of the bread basket items we in the FNM made tax free? It is a crying shame that old age pensioners struggling financially in their golden years are forced to give back $7.50 out of every $100 that they receive monthly to pay VAT.
"Thousands of Bahamians are going to bed tonight in the dark without light and water because they are unable to afford the high costs of electricity or pay the water bill and yet this uncaring PLP government has added the VAT tax of 7.5 per cent to an already high utility bill."
He added: "This is wrong, this is heartless, and this is cruel. An FNM government will repeal VAT on bread basket items, all baby and children's clothing, electricity, water, all health coverage and insurance."
Dr Minnis also accused the government of constantly waging war on democracy. This he said was evident in the House Speaker Dr Kendal Major's order to the Public Accounts Committee to cease investigations of Urban Renewal 2.0's Small Homes Repair Programme.
However, Dr Major interjected saying the government had no hand in his ruling which was made several weeks ago.
The rate of youth unemployment, the government's newly announced project to build 1,000 homes, the Freedom of Information Act, the Stronger Bahamas campaign and National Health Insurance were also points which drew criticism from Dr Minnis.
Following his extensive negative review of the Christie administration's three years in office, Dr Minnis made a pitch for his party and a government under his leadership.
He said: "We in the FNM are moving forward together for a new and better Bahamas. Bahamians everywhere come join the movement as we build the momentum to FNM victory 2017."
Dr Minnis said under his administration, the FNM would focus on land reform, inner city tax free zones, energy reform, VAT-free days in August and a recall system for non-functioning and dysfunctional members of Parliament among other things.