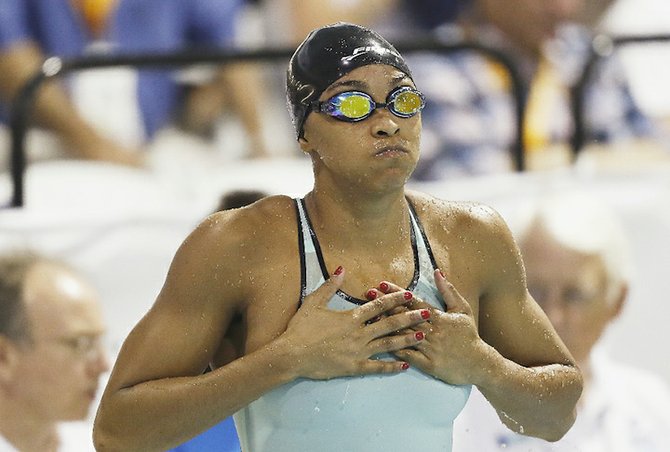 By BRENT STUBBS
Senior Sports Reporter
bstubbs@tribunemedia.net
WHEN the Bahamas Swimming Federation hosts its Royal Bank of Canada National Swimming Championships at the Betty Kelly Kenning Swim Complex this week, look for Arianna Vanderpool-Wallace to be among the top stars making a splash.
Vanderpool-Wallace, 25, is eager to return home to compete in the four-day meet that begins Thursday and wraps up on Sunday. The meet will also serve as a tune-up for the Pan American Games in Toronto, Canada, July 10-26 and the 16th FINA World Championships, scheduled for July 24 to August 9 in Kazan, Russia.
Vanderpool-Wallace, who is having a sensational season competing in the Arena Pro Swim Series where she is currently fourth on the leaderboard, is sitting in third place in the United States in the 50 metre freestyle, sixth in the 50m butterfly and 11th in the 100m free.
All three events have qualified her for both the Pan Am and World Championships.
Vanderpool-Wallace, whose times have been generated in the Arena Pro Swim Series, tops the list of Bahamians in the women's 50m free at 24.35 seconds at a meet in Charlotte, North Carolina on May 5. She is followed by Ariel Weech at 26.65 in another meet in Orlando, Florida on February 23. Grand Bahamian Joanna Evans follows at 27.08 in one of her victories at the CARIFTA Games in Christ Church, Barbados over the Easter holiday weekend.
Bria Deveaux rounds out the field at 27.51 at the MW LSS Captical City Class in Lincoln, Nebraska, just over the weekend on Saturday, June 20.
In the 100m free, Vanderpool-Wallace's time of 53.97 at the XXXiLLe Meeting in Monte-Carlo on June 13 is well ahead of her Bahamian rivals. Evans is next with 58.34 at CARIFTA, Deveaux is sitting in third with 58.86 from the MW LSS Capital City Class and Weech comes in fourth at 58.25 from the Pro Meet in Orlando.
And in the 50m fly, Vanderpool-Wallace has the only time listed at 25.93 in Charlotte as well.
When asked about her performances, Vanderpool-Wallace told The Tribune that she is right on target to achieving her goals for this year. "I'm really excited about where I am this year. I have been doing a lot of good times without being rested this year," she said. "The nationals will be my last meet going into Toronto and the World Champs, so I'm kind of going to be trying to put all of the final pieces together at nationals."
In the 5-6 meets she has competed in so far this year in the Pro Series, Vanderpool-Wallace said her performances in Charlotte were by far her best because both of her 50 free and fly were her season's best, while her 100m free was close to the mark.
"So as a whole, that meet would probably be my best," she said.
As for the Pro Series, Vanderpool-Wallace said she gets a chance to compete at least once a month with some of the top swimmers in the United States, which has helped to keep her in shape and geared up for the long haul this summer.
"You get a chance to see where you are and a couple weeks ago I was in Europe where I got a chance to compete against some of the other competitors around the world, so it's been a good measuring stick for me so far," she said.
And sitting in fourth place on the leaderboard at the series is a bonus for Vanderpool-Wallace.
"I really don't put too much emphasis on my stats, but I don't know if I've been top five ever and so it's a pretty good place to be going into the summer, especially knowing that a lot of people ahead of me would have had a chance to rest already this season," she said. "So this gives me a lot of confidence going into the rest of the season. Right now I'm feeling pretty good."
With the focus now switched to home, Vanderpool-Wallace said she intends to just do enough to win her events because she leaves for the Pan Am Games on July 9 and she wants to make sure that she's primed and ready for that meet more than the nationals.
"I'm just going to be coming home to work on the small things like my start and my finish because I know I'm going to have to be able to put it all together to be able to do very well at the two international meets," said Vanderpool-Wallace, who is looking to come out with a medal, if not at least make it to the finals.
"After nationals, I will be going back to Charlotte to continue training up until I leave for Toronto and after being over there for 10 days training and competing, I will be back in Charlotte to wrap up my training before I leave for Russia. So I'm going all over the place, but it will be a good opportunity for me to get a guide as to what I need to do for next year when I get ready for Rio (Olympic Games)."
The trip to Brazil for the Olympics could be Vanderpool-Wallace's swan song, but she's not ruling out the possibility of competing a little longer depending on exactly how well she performs up to that point.
"I'm just having fun, but even if I wasn't swimming the times that I'm swimming now, I will still be pleased," she stated. "I'm just having fun and I'm excited to be representing the Bahamas and doing what I enjoy and that is competing."
At the nationals this weekend, Vanderpool-Wallace will contest the 50m free, 50m fly and 100m free. They will get her ready for the Pan Am Games where she will contest the three events as well. However, at the World Championships, she only intends to compete in the 50m free and the 50 fly.