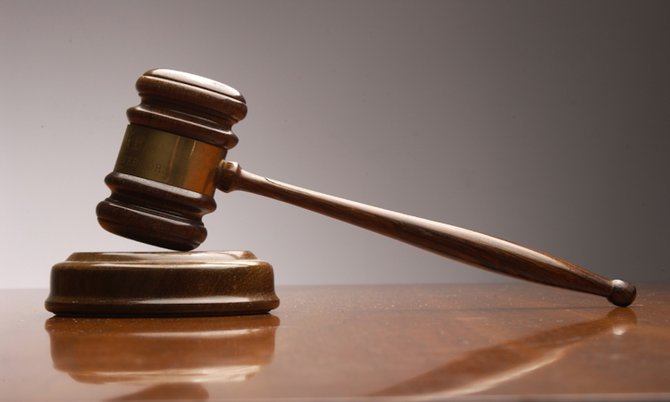 By LAMECH JOHNSON
Tribune Staff Reporter
ljohnson@tribunemedia.net
A MAN yesterday accepted a plea agreement that landed him in prison for 23 years for the hacking death of his former girlfriend and the subsequent attack on her male friend.
Oman Ferguson, 35, of Munnings Drive, initially appeared before Justice Vera Watkins to stand trial in connection with the January 12, 2013 murder of Tracey Rolle and attempted murder of Renardo Moncur.
Ferguson would have faced between 30 years and life imprisonment if convicted of the charges at trial.
However, Ferguson and his lawyers, Tai Pinder and Stanley Rolle, made a plea deal with prosecutor Raquel Whymms ahead of the start of trial.
Following chamber discussions between Crown and defence counsel in the absence of the jury, it was revealed that the attempted murder charge against Ferguson was amended from murder to "causing grievous harm."
"At this time I think the defence has something to say," said prosecutor Raquel Whymms.
"M'lady if the charges could be re-read to the defendant," said Mr Pinder.
When the murder charge and particulars were read to Ferguson, he said: "Not guilty to murder, but guilty to manslaughter by provocation."
He then pleaded guilty to causing grievous harm.
The jury, upon the direction of the judge, returned unanimous guilty verdicts with respect to manslaughter and causing grievous harm.
Hours before the incident in question, Ms Rolle had filed a complaint to police against Ferguson before returning to her residence on South Beach Drive off Bougainvillea Avenue.
She and Moncur were there when shortly after 4am, Ferguson kicked in the front door and forced his way into the bedroom where he found the victims.
He got a knife and went to stab Moncur, but was intercepted by Ms Rolle. However, she was stabbed several times in her chest and Moncur was stabbed twice in one of his arms before Ferguson fled the scene on foot.
On arriving at the scene, police found Ms Rolle's lifeless body, while Moncur was found to be suffering from minor stab wounds.
Moncur was taken to hospital by EMS personnel and later released while Ms Rolle was pronounced dead.
Mr Pinder offered a brief plea in mitigation on behalf of Ferguson in the event that the court was not inclined to accept an agreement made between the Crown and defence.
"By pleading guilty, he has accepted that what he did was wrong and has shown some remorse," the lawyer said, adding that her client is "still relatively young."
"I believe there's an agreement between counsel on a term of 23 years for the first count (manslaughter)?" Justice Watkins asked.
Both Mr Pinder and Ms Whymms said this was so. Justice Watkins said she would not exercise her discretion to go against the terms of the agreement and sentenced Ferguson to 23 years at the Department of Correctional Services.
Ferguson then received seven years for causing grievous harm to Moncur.
Both sentences will run concurrently from the date of conviction, June 25.