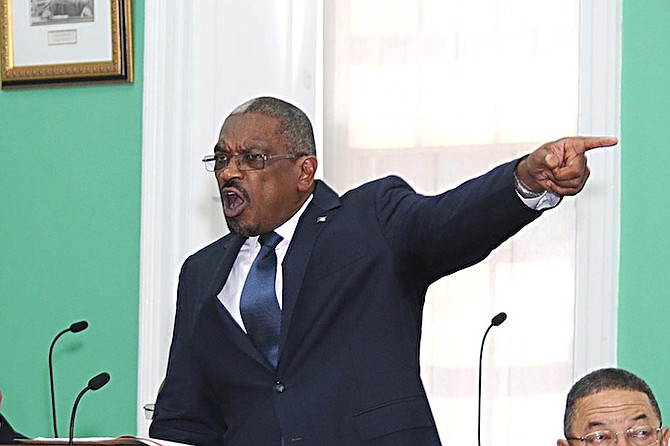 By KHRISNA VIRGIL
Tribune Staff Reporter
kvirgil@tribunemedia.net
FREE National Movement Leader Dr Hubert Minnis yesterday demanded that Prime Minister Perry Christie address the nation after Bahamians were "robbed" of their right to be informed of the government's proposed plans to tackle the country's crime challenges and other issues.
Last Wednesday, Works Minister Philip Davis moved a vote for an early close to the 2015/2016 budget debate, although neither he nor National Security Minister Dr Bernard Nottage delivered their contributions to the Budget debate. The debate was also closed without the customary wrap up from Mr Christie, who is also the minister of finance.
Dr Minnis said: "If the murder count continues to rise, clearly the fear of crime will continue to skyrocket, but in the midst of that, the Minister of National Security Dr Bernard Nottage has remained silent.
"At a time such as this, the minister should have announced new crime fighting measures. If this government must continue this senseless rhetoric of a 'stronger Bahamas' this and a 'stronger Bahamas' that, the initiatives should be in place.
"If we cannot get an address from the minister of national security or the works minister, then the FNM is demanding that Prime Minister Perry Christie come to the country and tell us what his administration is doing in National Security, in the Ministry of Works and for this country."
Up to press time, there were 73 murders recorded this year, according to police.
"Mr Christie must address the nation," Dr Minnis added. "He must reassure the public and give the people a sense as to whether or not they are on the right path. Bahamians have been robbed of this."
He added: "They have remained quiet because they are more concerned with themselves and how this government and the party will be perceived. They were silent because this government does not want to hear the criticisms and the negative comments launched in their direction about the different ministries."
"They have robbed Bahamians of knowing what is going on with three key ministries," Dr Minnis said.
Last week, during the evening session of the House of Assembly, Mr Davis moved that the Budget debate be closed early.
The closure motion was seconded, however Fort Charlotte MP Dr Andre Rollins, who also had not spoken, rose in protest and accused the government of trying to muzzle him.
Mr Christie, however, said Dr Rollins missed his allotted time to speak earlier, but had decided "he would do it on his time." Mr Christie said he would not let the government be held "hostage" by Dr Rollins.
However, House Speaker Dr Kendal Major later ruled in Dr Rollins' favour and allowed him to speak. Dr Major ended his speech by quitting the Progressive Liberal Party.