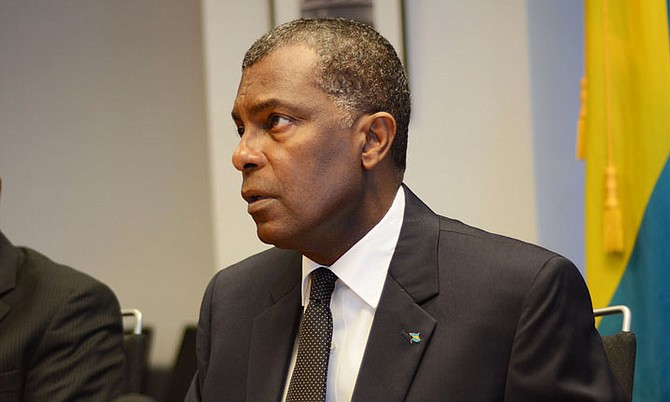 By AVA TURNQUEST
Tribune Chief Reporter
aturnquest@tribunemedia.net
FOREIGN Affairs Minister Fred Mitchell yesterday remained tightlipped over whether he will make a bid for the leadership of the Progressive Liberal Party if given the opportunity.
Although Mr Mitchell brushed off questions over whether he would consider running for the post at the party's upcoming October convention, he did refer to a political story that suggested his silence was the result of strategic timing.
He told reporters that he spoke to party leader Prime Minister Perry Christie on a daily basis, and was prepared to broach the subject when it was relevant to do so. Mr Christie has not publicly indicated if he will run for re-election.
"I don't comment on those issues," he said when asked about his aspirations at a press conference at his ministry. "I work for the prime minister, he's the leader of the party. I speak to him every morning. I'm the minister of foreign affairs, I'm his agent, so why would I, before a TV camera, say, 'Look this is what I'm going to do, this is what I'm not going to do.'"
When pressed further on whether he had considered a leadership bid, Mr Mitchell said: "It's not anything I'm going to say anything more on. I can tell you plenty stories, there's a man called Karl Hudson-Phillips and every Caribbean politician remembers him.
"Dr Eric Williams, as the prime minister of Trinidad, he got up and said 'I'm gone, I'm not running anymore.' So he (Hudson-Phillips) says 'Good, I'm going to run.'
"Next thing you know," Mr Mitchell said, "they hold the convention and the PM (Williams) says 'Whoops I changed my mind,' and that was the end of Hudson-Philips' career."
Mr Hudson-Phillips, QC, served as a Trinidadian MP from 1966 to 1976, and as attorney general and minister of legal affairs from 1969 to 1973. His political career with the People's National Movement (PNM), came to an end in 1973 when he fell out of favour with Dr Williams, the country's first prime minister. While he was never re-elected to public office, he later founded a major political party that merged with another faction and went on to successfully contest the PNM in the 1986 general elections – breaking the latter's 30-year-long consecutive run.
Yesterday, Mr Mitchell added: "So I'm not getting in that, I don't have anything to say on it, the prime minister and I speak everyday and I know what to say if the subject comes up and that is the end of that for me."
Mr Mitchell joined the Progressive Liberal Party in 1975, and served in the Senate from 1992 to 2002. He was first elected as the MP for Fox Hill in 2002, and has served in the post for three consecutive terms. Prior to his political career, he was a prominent activist in the human rights movement with special focus on the Judiciary and South Africa.
Both Deputy Prime Minister Philip Davis "Brave" Davis and Tourism Minister Obie Wilchcombe have indicated their interest in a leadership bid at the PLP's next convention, set for the last week in October, on the condition that Mr Christie decides to step down.